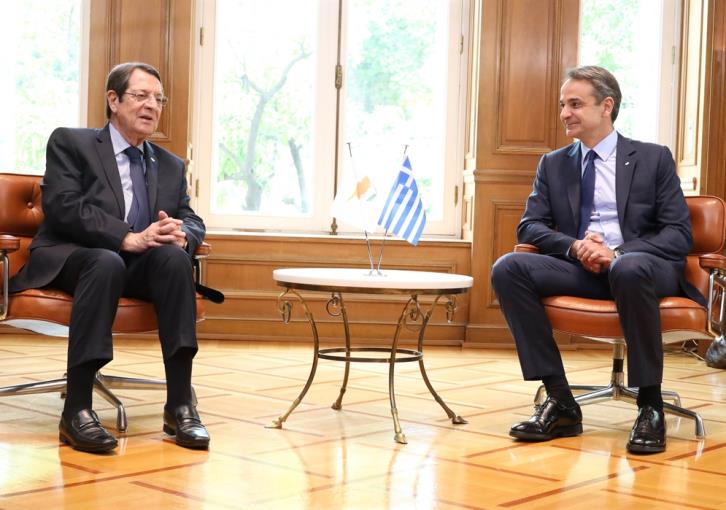 & nbsp & nbspphilenews & nbsp; & nbsp;
"The emergence of dangers from expansionist aspirations and hostile actions is something that will occupy the talks of the Prime Minister of Greece with the President of the United States, emphasizing the position of Greece and Cyprus that they do not rule out cooperation with any state as long as respects international law ", said today the President of the Republic, Nikos Anastasiadis.
In his statements, after his meeting with the Prime Minister of Greece, Kyriakos Mitsotakis, in Athens, President Anastasiadis stated & nbsp; that "the meeting was very creative and productive, as it covered a range of issues that, above all, as it is The Greek Prime Minister was interested in the current phase of the Cyprus issue, in some moves that are being made, such as the visit of Ms. Newland, the efforts for the appointment of a UN Secretary General, a representative for the Cyprus issue, in order to create the conditions for resumption of dialogue. the letter I have prepared for Mr Tatar with specific proposals, ie an initiative I am taking to create a positive atmosphere for the resumption of the dialogue.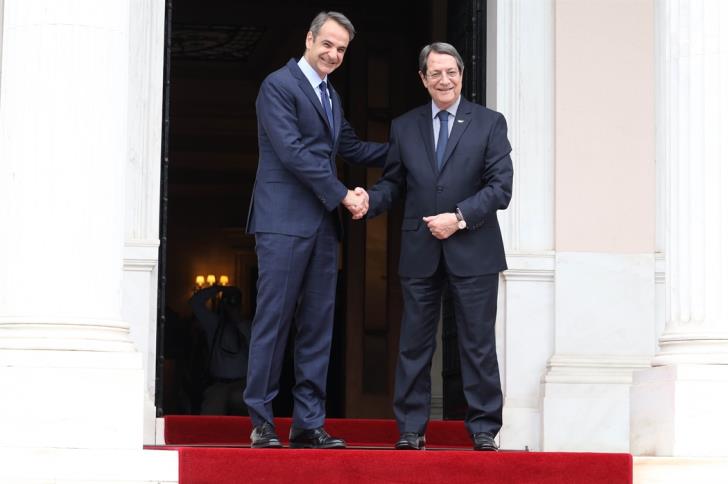 We were, of course, concerned with the Cyprus issue and the important visit of the Prime Minister to America, so that there is a coordination of actions and where we aim and what we seek. Of course, we were also concerned about the energy crisis, but also the energy processes in the region and how it would be possible to use them to create an interest on the part of Turkey, so that this country realizes the benefits, which will have from a solution to the Cyprus problem, while, of course, we were also concerned with the alternative sources that Europe is looking for in order to become independent from specific countries or otherwise.
Among other things, we were concerned about what is happening in Europe with sanctions. We are both clear. And against the Russian invasion and of course in favor of sanctions. Sanctions, however, that should be targeted and not optional and that serve some of the states and leave some of the states exposed. Our common position was on specific issues concerning sanctions, I repeat, not because we are against, but because, as with other EU countries, they should take into account the concerns of both Greece, Malta and Cyprus, of course. .
I am completely satisfied with the discussions we had with the Prime Minister, and the cooperation we had, which as usual is always for the good of both countries ".
Asked what is the message that the Greek would like to give? The Prime Minister of the United States, President Anastasiadis, said that "it is a common position of the two that we do not rule out cooperation with all our neighbors, much less with a candidate country, as long as it respects international law.
The emergence of dangers from expansionist aspirations or hostile actions is something that will occupy, I understand, the Prime Minister's talks with the American President, with emphasis on the fact that our position, the common position is that we do not rule out cooperation with any of the states, neither by the trilateral nor by the multilaterals we have developed. "What we are looking for is respect for international law, the law of the sea, and especially this law that has emerged these days with the invasion of Russia, respect for the territorial integrity, independence and sovereignty of states."
Earlier , welcoming President Anastasiadis, Mr. Mitsotakis said addressing the President: "I want to thank you for the great honor to attend and speak on the first day of our 14th conference. Besides, the ties between our two parties are well-known and historical. & Nbsp;
I would like to point out, however, that your visit also coincides with a very interesting time as we will have the opportunity to discuss my forthcoming trip to Washington, the coordination of the actions of Greece and Cyprus at a time when, unfortunately, the expansive revisionism has reappeared on our continent. & nbsp;
We will, of course, also discuss the prospects for further cooperation in the field of Energy. I will have the opportunity to inform you about my upcoming visit to the United Arab Emirates on Sunday, but also about the arrival of the Prince, Crown Prince of Saudi Arabia in two weeks in our country. & Nbsp;
Greece and Cyprus, in perfect harmony and harmony, are fighting for peace and stability in the Eastern Mediterranean. "& Nbsp; "alt =" & Chi; ά & rho; & alpha; & xi; & alpha; & nu; & gamma; & rho; & alpha; & mu; & mu; ή & epsilon; & nu; ό & psi; & epsilon; & iota; & tau; & eta; & sigmaf; & epsilon; & pi; ί & sigma; & kapp ; & epsilon; & psi; & eta; & sigmaf; & Mu; & eta; & tau; & sigma; & omicron; & tau; ά & kappa; & eta; & sigma; & tau; & iota; & sigmaf; & Eta; & Pi; & Alpha; "/>
On his part, the President of the Republic stated that "every time I visit Greece I am very happy, especially when we have the opportunity to have these established coordination meetings, joint actions that the respective Governments, but especially those who at least have the same ideologically, we achieve goals, such as the tripartite cooperation, such as the countries of the south, which were joint initiatives, such as our coordination in Europe, our common positions on day-to-day events, both locally and internationally. & nbsp;
I am very happy, because really accepting the invitation, which was a special honor for me to address the conference, will give us the opportunity to discuss a number of issues of interest because I also visited Saudi Arabia and the Prince will be in Cyprus on the 17th. May and therefore we have every opportunity to discuss important, interesting issues concerning alternative energy sources for the European Union. & Nbsp;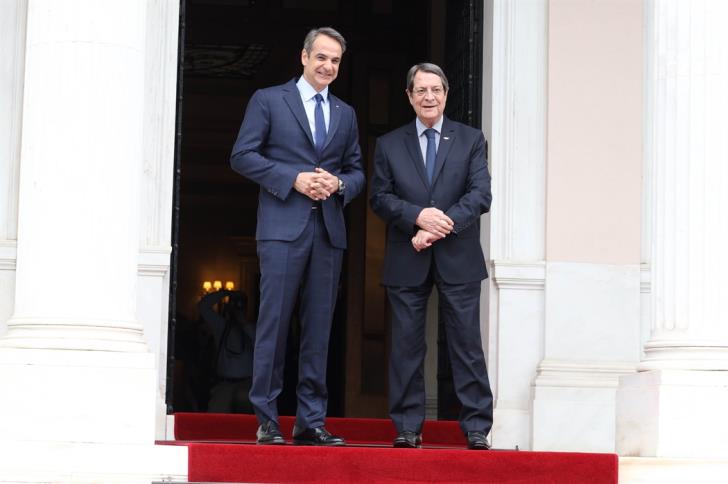 >
At the same time, of course, we will be concerned, as expected, with what is happening in Ukraine, which is a blatant violation of international law, something that He joined the same arguments in 1974 in Cyprus, but also other issues of common interest that have always guided the common policies that we follow and that have established us – it should be emphasized – as a pillar of stability and peace in the region. Thanks again for the invitation and I look forward to sharing it for the benefit of both countries. "& Nbsp;