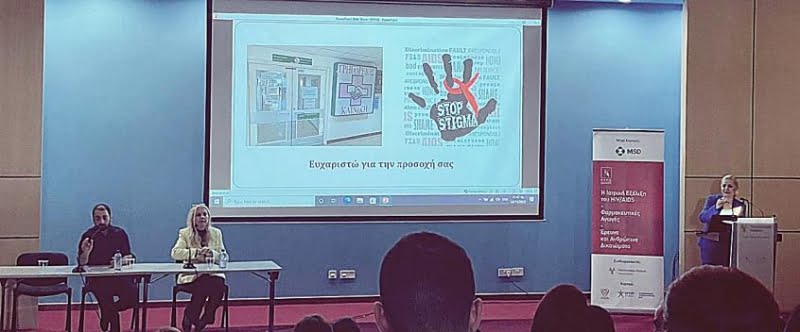 "A HIV-positive girl went to the hospital after being hit on the head and when she informed the doctors about her health condition, they left her covered in blood and told her that they would not give her any help. They told her to go to her own doctor and we called to have an intervention. They told us they didn't have a doctor, but the opposite happened, it was a private clinic and there were doctors, but no one wanted to stitch her up."
This was one of the few testimonies heard, about HIV positive people. A testimony that describes the harsh reality that these people experience, despite the fact that their condition is not as alarming as it was when it was first discovered, 40 years ago. Although with the advancement of science and the fact that there are three stages in which one can receive treatment for HIV, the perceptions on our little island seem to be that the perceptions and way of thinking are stuck in the 1980's.
A logical conclusion, which one could come to, especially after what was heard in the lecture prepared by the Support Center for People Living With HIV/AIDS, in collaboration with the Medical School of the University of Cyprus, entitled "The medical evolution of HIV /AIDS, medication, research and human rights". During the lecture, several examples and opinions were heard, regarding the way these people are treated by society, as well as numbers, regarding the new cases recorded so far, but also about the medication that people can receive belonging to the groups of increased risk.
"There are people who do not receive medication in Cyprus, but go abroad, because they are afraid to go to the Gregorio clinic. They do not want to be seen and stigmatized and choose to leave Cyprus. This has to stop. We are living in 2022 and soon we will enter 2023. We are a European country, this cannot continue", said the president of KYFA, Stella Michailidou, in one of her statements.
" Employer forced his employee to resign"
During the lecture, a presentation was made on the human rights of patients, who are carriers of HIV, by the legal advisor of KYFA, Chrysi Michailidou. As he mentioned, the state has an obligation to ensure that laws, policies and practices are not against the rights of people with HIV, while there must be funds and support from the Ministry of Health and the Government for campaigns.
< p>Continuing, he referred to the rights of HIV patients to access treatments in public hospitals, stressing that they should not be forced to undergo an HIV test without their consent or in case they need other treatments. He pointed out that they receive complaints that many go to the hospital for tests or treatments, unrelated to HIV, and force them to undergo tests for this condition as well. However, Ms. Michailidou indicated that from the years he has been active in KYFA, he has met nurses and doctors who did not know the slightest about the condition.
If someone is admitted, he said in the lecture, there are complaints that doctors write in big red letters, on the outside of the HIV file, to let them know that it is an HIV-positive person, which violates their rights to anonymity. At the same time, it was emphasized that it is a violation of the rights of HIV-positive patients to transfer them from clinic to clinic, without the consent of the patients.
In her intervention, the president of KYFA mentioned that there was a case where two HIV-positive patients had gone to the Nicosia General Hospital to receive treatment, unrelated to HIV, and when the time came for them to be discharged, the doctor insisted that she should be registered on the supporting document who would present at work, that they were HIV patients. In fact, he noted that it took their intervention to change the opinion of the doctor in question, but they had to intimidate her, that publicity would be given.
The legal adviser of KYFA also referred to the rights of HIV-positive people at work, stressing that their work should not be affected, nor should they undergo mandatory HIV tests. She made it clear that people who are HIV positive should not lose their jobs and when asked to refer to the number of incidents that occurred in Cyprus, she emphasized that in the last 4 years she is aware of 10-11 incidents.
Asked if there was a case where an employer fired an employee who was HIV positive, Ms. Michailidou indicated that there were no incidents, where the reasoning was this, however there was a case where an employer forced his employee to resign, because he suspected that he has HIV. In a similar situation, the complainants can take legal action, however they must have witnesses and evidence to support their position that they were fired for that reason.
Protocol must be followed
During the lecture, reference was also made to the correct practice that must be followed when someone is found to be HIV positive, with Stella Michailidou stressing that the KYFA, when carrying out this process, requests the input of a psychologist, who is also present in the process informing the patient.
He emphasized that in other cases this practice is not followed, giving the example of a laboratory which, when it received the results of a patient, called him late at night and announced that he was HIV positive. A similar tactic is followed with e-mail, from other laboratories, with Ms. Michailidou to ring a bell that the fragile psychology of patients should be taken into account when they hear the diagnosis.
A large increase in cases is observed
At the same time, in the lecture numbers were also heard regarding the new HIV cases identified so far in Cyprus, with the authorities predicting that by the end of the year the number may be quite high.
However, so far a total of 170 incidents have been identified, from January to October, while for the entire year of 2021, a total of 150 incidents have been identified. Based on these data, it is not excluded that more than 200 incidents will be recorded in total.
What caused an impression is the fact that during the pandemic period there was an increase, both in phone calls to KYFA, and in number of confirmed cases, however officials did not look into the reasons behind this increase.
High-risk groups and treatments
In addition, the doctor of the Gregory Clinic, which is the most competent to treat HIV-positive patients, Giorgos Siakallis, also made a presentation and referred to the high-risk groups and the treatments that are currently provided.
As he said , high-risk groups are considered to be people who have multiple sexual partners and do not take precautions during their sexual contacts, people who are divorced and people who use intravenous drugs. He also indicated that there are three ways of treatment.
One is pre-exposure, which they can take so they don't get infected. They can receive this treatment as long as they belong to the high-risk group. The second treatment is what one might call "the morning after pill" and one can take it up to 72 hours after the dangerous intercourse and the third is the treatment one receives when one is now diagnosed with HIV and which it is administered only through the doctors of the Gregory Clinic.
However, the authorities emphasized that there must be a promotion of the first method of treatment, so that there is no large transmission, while at the same time they noted that with the development of science, the life expectancy of patients has also increased. As Mr. Siakallis explained, in 2003, a 20-year-old diagnosed with HIV had a life expectancy of eight months, whereas now he has a life expectancy like the rest of society. "It is time to talk about a condition that has passed," he emphasized.