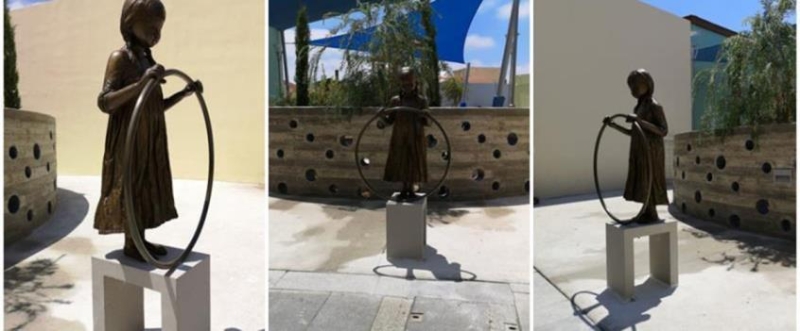 They sold the bronze sculpture worth 10,000 euros for 85 euros, as metal, according to the Press Representative of ADE Paphos and Head of TAE Paphos Michalis Nikolaou.
Mr. Nikolaou stated in his statements to journalists that three persons, aged 55, 37 and 24, have been arrested in relation to the case of the theft of the bronze statuette committed in the early hours of 27.1.23, the value of which amounts to 10,000 euros , who are in custody by order of the Court, which is valid until Monday, February 6.
As he said, two more people, a 43-year-old woman and a 50-year-old man, are wanted and are expected to be arrested.
As noted by Mr. Nikolaou, information was received on Thursday afternoon that pieces of the statuette were located in a remote area of ​​Tremithousa with dense vegetation. The search began on Thursday night, continued during the night and finally in the morning around 5, the first piece was located.
A total of four pieces of the statuette have been identified and investigations are continuing to locate the rest.
The case being investigated concerns, he continued, the offenses of conspiracy to commit a felony, theft, malicious damage, because it has been established that the statuette has been destroyed, as well as the crime of theft.
As reported by the Head of the Paphos TAE, it seems that four of them had sold it to the 24-year-old for the price of 85 euros, which concerns its value as metal and not as a sculpture.
Then it seems to have been taken back. from the rest and the rest of the pieces are also being sought as only four pieces that are a part of the statuette were found, she concluded.
She went to pick up her child from school and her car was stolen
Steps forward on outstanding warrants-Nearly 70,000 executed in 2022
Part of 'girl with hula' statue found whoop"-Investigations continue
Community Council vehicle on fire-Local authorities see arson
Stolen minivan with tools and he was walking-A 45-year-old man was arrested
All the details for the ceremony of declaring the new PtD-The recommendations of the Police
He was sending inappropriately video in minor -In the cell 50-year-old for sexual harassment
Arson behind the fire in a vehicle of the Community Council of Pyrgos