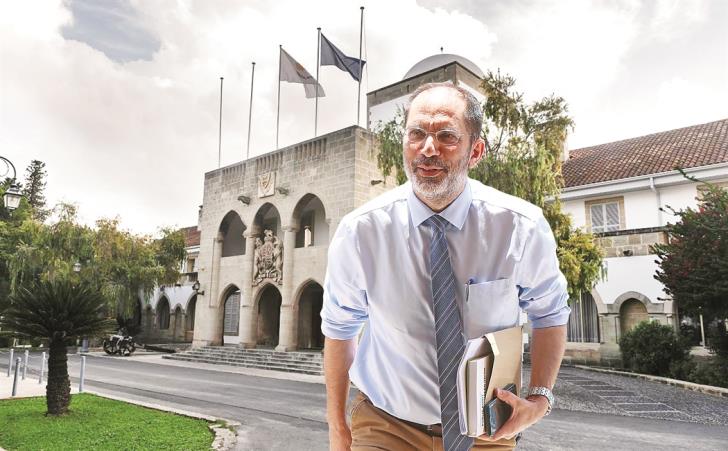 & nbsp & nbspΦρίξος Δαλίτης & nbsp; & nbsp;
He had stated long ago that he was not interested in running for president. However, his name was not removed from the lists of potential candidates for the presidency of the Republic, due to his popularity. The reason for the Auditor General, Odysseas Michailidis, who despite the fact that he "cut a knife", nevertheless some people keep his name, counting it even in polls. & Nbsp;
According to information from the environment of Odysseas Michailidis, some people recently approached the Auditor General, firing at him unofficially for the presidential elections and the possibility of his candidacy as the person who could lead an opposition coalition. As we are informed, the answer of Odysseas Michailidis was vertical and without discussion. He remains adamant that he is neither interested in getting involved in the presidential election battle, nor in getting involved in politics. So the debate over his name seems to end here.
READ ALSO: & nbsp; & nbsp; Odysseus answers for the 2023 Presidential
The processes of the opposition parties are still stagnant, due to the "hit" of the coronavirus. AKEL Secretary General Stefanos Stefanos, after being diagnosed as positive in Covid last Friday, moved all scheduled appointments, as the circle of contacts between the opposition parties will open with the appointment of the leaders of AKEL and DIKO after the rest will follow. As we are informed, until yesterday he had not locked the appointment of the two. Stefanos Stefanou is recovering from the coronavirus, fortunately having mild symptoms. Ten days before, however, from the day of his diagnosis, there can be no meeting and therefore the appointment with Nikolas Papadopoulos will take place within a week, until Wednesday at the latest. In the last communication of the two party leaders, it was said that they should discuss closely and at an official level both the formation of a common political framework and the name of the candidate. Both sides keep their tones low, leaving windows open for all scenarios and without drawing red lines. & nbsp;
In general, in Hezekiah Papaioannou they want a candidate who can fit in the suit that will be sewn together with DIKO and at the same time be a personality that can unite as much as possible all the parties of cooperation. From DIKO, they believe that the name of Nikolas Papadopoulos can be first on the list, as the person who has the criteria required for the presidential candidate's suit, having great eligibility, uniting around his candidacy other forces of the Center. It is noted that Nikolas Papadopoulos and Marinos Sizopoulos had a telephone conversation the previous days, agreeing to meet.
Cooperation in Parliament, DIPA in leadership & nbsp;
With the exception of Mario Karoyan, in the DIPA they left the deputies, in their parliamentary seats and gave the party positions to other executives. Alekos Tryfonidis and Marinos Mousiouttas were left out of the leadership pyramid by choice, limited to their parliamentary duties. The two, who along with Giorgos Prokopiou and Angelos Votsis were added to the DIPA chariot in the parliamentary elections, secured two of the four seats won by the party. A proposal to take a role in the leading pyramid was made, as we are informed by George Prokopiou, who was left out of Parliament, but refused for personal reasons. In the case of Angelos Votsis, the scenario of Marios Karoyan's resignation and his concession of the Limassol headquarters is maintained. Regarding the new leadership of DIPA – Cooperation of Democratic Forces, Marios Karoyan continues as president, while the three vice-president positions are filled by: Marinos Kleanthous, Giannos Lakkotrypis and Antigoni Papadopoulou. Antonis Rousakis takes over as General Secretary and Spyros Panagi as General Organizer. All were elected without a candidate. & Nbsp;