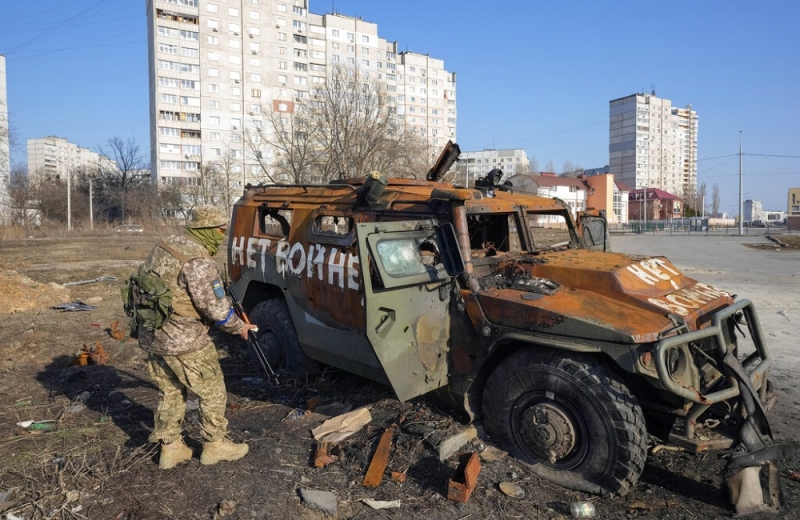 On the 30th day since the beginning of the Russian invasion we are going through today and the information about the evolution of military operations is continuous. Following the overnight bombardment of fuel tanks on the outskirts of Kiev , reports from the Ukrainian General Staff indicate that some Russian military units have begun withdrawing from areas in which were developed after suffering heavy losses . According to the same source, the specific Russian units withdrew to Russia as they lost half of the men, according to the same source.
To refute this information, the Russian Ministry of National Defense published a video showing a top Russian general on the outskirts of Kiev. However, as reported by the agency nexta, this information is not true. From the control of the photos, the Ukrainians claim that it was located 50 km away from Kyiv.
#Russian Defense Ministry released a video of #Putin's general's alleged visit to a front line, allegedly 30 kilometers from Kyiv.

However, journalists came to the conclusion that the video was filmed on the territory of a secondary school 50 kilometers away from Kyiv. pic.twitter.com/EOmRO0zela

— NEXTA (@nexta_tv) March 25, 2022
Information for 135 dead children
The price paid by civilians, especially children, is high because of the Russian invasion of the country. In addition to the millions of displaced Ukrainians, according to government authorities, 135 children have lost their lives since the start of the war. "As of the morning of March 25, 135 children had died in Ukraine as a result of the Russian armed attack, while 184 children had been injured," the report said. status/1507243858253553664? ref_src = twsrc% 5Etfw [/embed]
City blockade continues
As the Russian invasion enters in the second month, the situation on the fronts is "practically frozen", according to Oleksiy Arestovich, an adviser to Ukrainian President Volodymyr Zelensky.
Russian troops continue to blockade the cities of Kharkiv and Sumy, pounding it on the outskirts of Kiev as they prepare for a new offensive in Izumi.
of Crimea, he added.
Ukrainian forces attacked the Dnipropetrovsk region at night. Russian troops have launched two rocket attacks on a Ukrainian unit on the outskirts of Dnipro, a local official said on Facebook.
What the separatists are complaining about
Meanwhile, Russian separatists are complaining that the Ukrainian army has bombed a small town. In particular, the leaders of the pro-Russian separatists in eastern Ukraine accused the Ukrainian army of bombarding the small town of Zolote in the Lugansk region with artillery. Luhansk People's Republic, which did not mention casualties. According to him, the apartment building was hit by four 122 mm shells. It is impossible for this information to be verified independently.
Meanwhile, Ukrainian President Volodymyr Zelensky , in a tweet today, awarded the title of "Heroic City of Ukraine". in Busa, Irpin, Mykolaiv and Akhtirka.
Volodymir Zelenskyy awarded the title of "Hero City of Ukraine" to four more cities: #Bucha, #Irpin, #Nikolaev and #Akhtyrka.

President also awarded the title of Hero of #Ukraine to seven servicemen of the National Guard, five of them posthumously. pic.twitter.com/LdDC3LHU07

— NEXTA (@nexta_tv) March 24, 2022
< p>