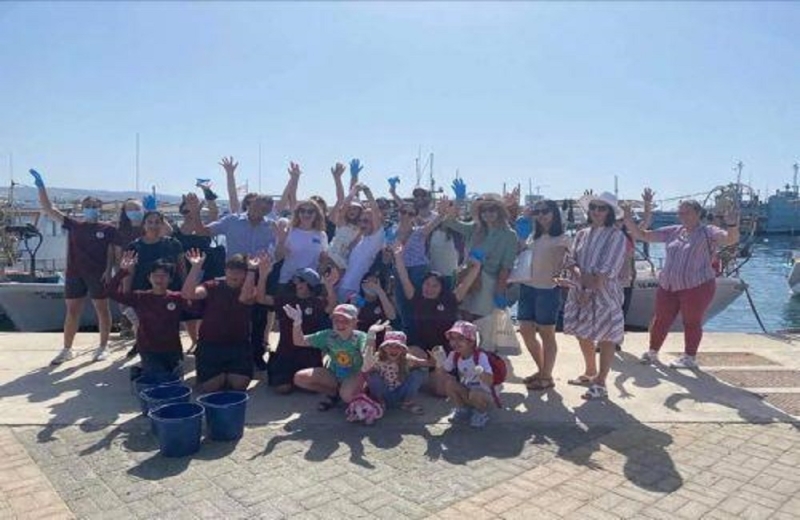 A total of 262 kg of garbage was collected in 20 minutes, as part of the coast and seabed cleaning that took place on Monday morning in the Port of Paphos by the AKTI Center for Research and Research in the context of the World Environment Day 2022.
According to the Chairman of the Board of AKTIS, Dr. Xenia Loizidou, 82% of the garbage was plastic and the rest of the cans and glass.
According to a relevant announcement, the events for the World Environment Day 2022 were started on Monday by AKTI from the port of Paphos, with shore and seabed cleaning. The AKTIS event in Paphos was supported by the High Commissioner for Australia, and was attended by High Commissioner Fiona McKergow. Volunteer divers from CyDive, the Paphos Coastal Fisheries Association, spearfishers, volunteers from the Cyprus Standardization Organization, students and teachers from the International School of Pafos and refugee children from Ukraine working in their Technopolis with their mothers participated. >
In her statements to KYPE, the Chairman of the Board of AKTIS Dr. Xenia Loizidou said that "this year the World Environment Day has the slogan & # 8216; One Earth & # 8217;" to add that "it's the same slogan as the Stockholm UN Summit 50 years ago, in 1972, when scientists first sounded the alarm for the coming climate change."
The warning then, he added, was ignored and "50 years later we are living the effects of a major climate crisis, a climate chaos. Even now let us act. We have only one land. Let's take care of her, let's love her, because she is so beautiful and we are abusing her ". Nicosia.
Source: KYPE