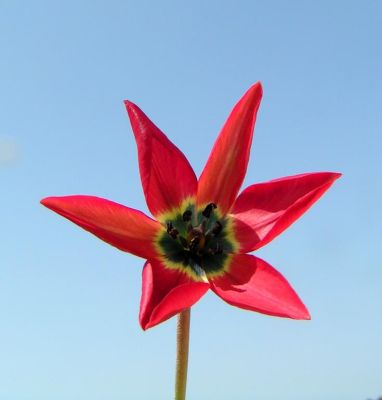 With the Akamas tulip, a species found exclusively in the Akamas Peninsula, the Ministry of Agriculture, Rural Development and Environment welcomes March and Spring.
With the scientific name Tulipa akamasica, the Akama tulip blooms from March to April, depending on the weather conditions and is threatened by overgrazing.
According to the Ministry of Agriculture's press release issued by the GTP, the name of the genus Tulipa comes from the Turkish word túlipand, which means turban (fabric used by Muslims as a hat) because of the resemblance of the tulip flower to the tulip. In addition, the adjective akamasica was given to the species because its distribution is limited to the Akama National Forest Park, a state forest land included in the European Natura 2000 Network.
Due to the small range of distribution and the small population of the species, which does not exceed 200 plants, Tulipa akamasica has been included in the Red Book of the Flora of Cyprus, where it is characterized as a "Critically Endangered" endangered species.
To protect both the habitat and the plant, the Department of Forests in the 1990s partially fenced off the population. Later, the fence was extended to cover almost the entire area of the plant, as part of the population outside the fence was dangerously degraded due to overgrazing in the area. In addition, for the ex-situ protection of the species, an attempt is made to install it in the botanical gardens of the Department of Forests.
The Akamas tulip is a perennial, bulbous, erect plant, 9–25 (–30) cm tall. The leaves of the plant are fleshy, usually 3 to 7 cm, of which two at the base are larger, lanceolate, up to 30 cm The upper leaves are much smaller, almost linear. The flowering shoot is fluffy, with a green color and a red tinge at the top. The flower of the plant is solitary and is located at the top of the flowering stem, with a diameter of about 7 cm. their.
According to Zonneveld & de Groot (2012) the genus Tulipa, of the family Liliaceae, includes at least 87 species. However, mainly due to the difficult classification of the genus and the general discrepancy in the meaning of the species, there is no consensus among experts as to the total number of species included in the genus Tulipa. Tulip species come from Europe, West and Central Asia and North Africa. In Cyprus, the genus is represented by 3 species: the endemic Tulipa akamasica and Tulipa cypria (which we met last April), as well as the acclimatized alien species Tulipa agenensis.