According to 175 travel enthusiasts, experts and agents, it is the most underrated city to visit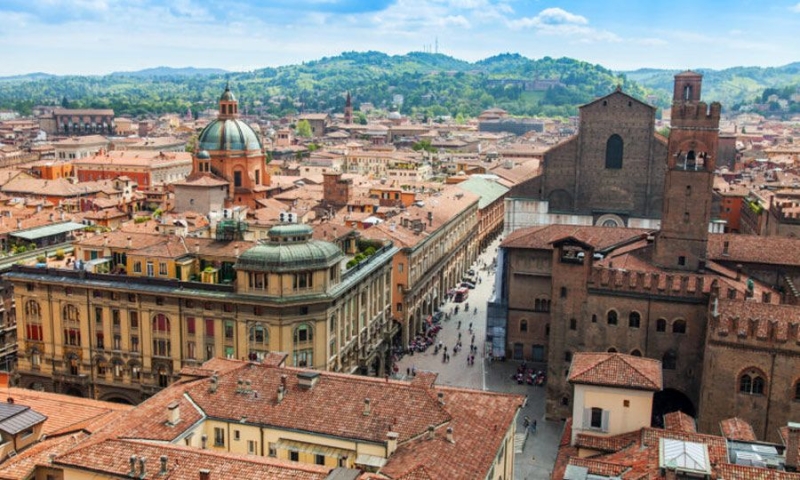 When we ask someone where they want to go on a trip, the answers are usually New York, London, Tokyo and other big cities. But there are also those, the small ones, which sometimes have just as much to offer, especially if you consider that they are less crowded and more accessible.
One of them is Bologna in Italy, which according to with 175 travel enthusiasts, experts and agents, it's the most underrated city to visit.
"Bologna is very much on the rise and poised to become the new hot Italian city to visit," says Tom Marchant, founder of travel company Black Tomato. "And as the home of Bolognese pasta, it's a culinary mecca."
Bologna: The New Hot City You Must Visit
Its Many Nicknames Bologna – La Rossa (the "Red", for its tiled roofs), La Dotta ("The Polymath", for the University of Bologna) and the most famous, La Grassa ("The Fat", for the rich cuisine) explain all the hidden secrets of the city.
Here are the top three reasons to put Bologna on your travel bucket list this year:
1. Its culinary beauty is unmatched
"Bologna probably has the best food scene in all of Italy," Jeff Miller, travel blogger at Our Passion for Travel, tells CNBC.
Foodies can explore the city's open-air markets and visit the restaurants that created favorites like pasta Bolognese and tortellini.
You can also spend a day at FICO Eataly World (also known as the 'Disney World of food'), Bologna's 20-acre theme park dedicated exclusively to Italian cuisine.
Also there is the option of a day excursion to the Emilia-Romagna region, where Italian gastronomy was born.
"Bologna has excellent access to Modena and Parma, both known for famous products [such as Modena prosciutto and Parmigiano-Reggiano] that bear their name," says David Hawkraven, owner of Designed Travel.
Hawkraven often sends travelers to local farms where they can sample Modena prosciutto—rarely found in the U.S.—or learn about the process behind authentic balsamic vinegar.
2. Its architecture and history rival other Italian cities
Bologna has been recognized as a UNESCO World Heritage Site for its long arcades or arched corridors.
It's also home to 24 medieval stone towers, including Bologna's most iconic landmark, the Two Towers.
Travel writer Ann-Marie Cahill says climbing the Asinelli Tower, one of the Two Towers open to audience, is exactly where history buffs should start.
He also suggests visiting the unfinished Basilica of St. Petronius and exploring the Roman ruins beneath the Bologna library, which you can also see through the library's glass floors.
3. You can go everywhere on foot
According to Marchant, Bologna is "completely walkable", which will save you the cost of a rental car. If you want public transport options, there is a city bus with tickets starting at just €1.30.
Marchant says the locals are friendly and the town is generally safe, making it a comfortable holiday spot. And the average hotel room costs less than $200 per night for eight months of the year, according to travel search engine KAYAK.
Located in Northern Italy, it's convenient to travel from Bologna to other Italian hot spots. . It is only 110 km from Florence, 150 km from Venice and 215 km from Milan.
However, the city is a destination in itself.