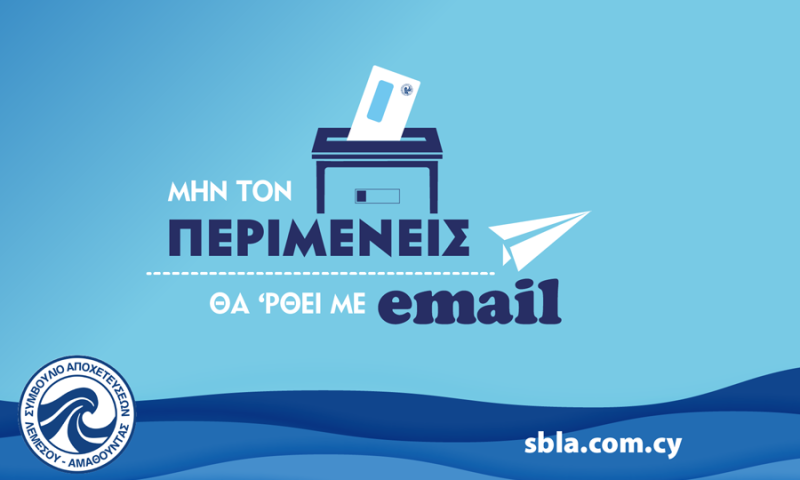 The Drainage Board Limassol – As part of the digital upgrade of its services, Amathus will stop sending account statements by post from 2023. From now on, account statements will only be sent via email. Therefore, consumers are requested to update their information in order to receive their account statement by email.
Taking advantage of the internet, digital media and new technologies, the Agency is taking the next step in the green economy for the benefit of citizens, businesses and the environment.
The digitization of paper bills will save significant useful time for consumers but also for Council officials. At the same time, tens of tons of paper will be saved, the pollution caused and the environmental impact of the final product will be reduced.
Update information, easy and simple.
Consumers are encouraged to update their information in the following ways:
A. By scanning the electronic QR CODE
The information can be updated by scanning with their mobile phone the electronic QR code located at the top of the letter they have already received and entering their mobile phone number and email address (email )
B. Through the website www.sbla.com.cy
On the SALA website under "Update Owner Details" they can enter their Account Number, as it appears at the top of the letter they have received and then register their mobile phone number and email address
C. Using the enclosed Update of Details Form
By completing the Update of Details Form found on the back of the letter following the instructions and sending it to the Council by choosing one of the shipping methods listed on the Form.
It is noted that by updating their details, consumers will receive SMS and/or e-mail updates on matters relating to sewerage due dates, traffic arrangements for public road works, connection orders and other updates .
Learn more here: www.sbla.com.cy