On Thursday, November 4, 2021, New Wave – The Other Cyprus and Volt Europa formalized their cooperation, by co-signing a Memorandum of Cooperation. The two movements will work closely together and eventually merge. With immediate effect, the Cypriot Volt team is now active in the country and the co-chairs of the pan-European movement Volt Europa Francesca Romana D'Antuono and Reinier Van Lanschot talk about this cooperation, which is also commented by the general coordinator of New Wave || Volt Cyprus – The Other Cyprus, Konstantinos Christofidis.
Can you explain the current relationship between Volt Europa and the "New Wave" and how you hope to develop it?
Francesca Romana D'Antuono (FRD): The New Wave and Volt Europa share the same values and vision of a united European Union, where our differences enrich us rather than impoverish us. For this reason, the New Wave and the Pan-European political movement Volt decided to merge. We will work together to create a political party that will be established in the long run under the name Volt Cyprus. The first step of our cooperation is to fight together for a more progressive and fairer Cyprus.
Are there any specific goals you have set for the inclusion of the "New Wave" in Volt Europa? Are there any plans for elections?
Reinier Van Lanschot: Our goal is to have a positive impact on Cyprus and Europe at the same time. This starts with the unification of our base, that is, of our members, and with the support of the "New Wave" during the presidential elections in Cyprus. Volt Cyprus will be activated as such and will be fully operational immediately after the presidential election. With the same or a similar electoral program, we will participate in as many countries as possible in the 2024 European elections. We will also come down with a full list of candidates in Cyprus and focus our efforts on winning at least one of the six Cypriot seats in the European Parliament. After that, we aim to go down in the parliamentary and local elections in Cyprus. We think European and act locally. In this way, we want to strengthen the values of European solidarity among citizens at all levels of government. To make a difference in European politics, we also need to be elected to national parliaments, where non-participation is stronger. This is how Volt works all over Europe. This is the way we aim to unite Europe and overcome the transnational challenges of the 21st century. We currently have 80 elected officials in five countries. This includes members of the national parliaments of the Netherlands and Bulgaria and one member of the European Parliament.
How do you see the role of the Turkish Cypriots in this initiative?
FRD : The Turkish Cypriots are part of Cyprus and we see ourselves as both a pan-European and a pan-Cypriot political party. We strongly condemn the ongoing occupation of the northern part of Cyprus by the Turkish government and fully support the proposed "New Wave" plan: a federal Cyprus in a federal Europe. Many of the plans proposed by the UN were in the right direction. However, the UN, the EU and all those involved must work harder to further refine a plan that aims to bring unity, peace and prosperity to the Cypriot people.
Is Cyprus ready for a political party / group that embraces your vision of European integration?
Reinier : Yes! All the great and renowned people we have met from the "New Wave" show us this. We met Cypriots with a clear vision for an innovative and progressive Cyprus, within a strong European Union. Given the location and size of the island, as well as its open economy, it is also in the interest of Cypriots to have a strong European orientation. We believe that Cyprus is more than ready, not only for our vision, but also for specific changes.
How do you hope to achieve your goal of a united federal Europe, given the current tendency of some Member States to challenge the power of Brussels?
FRD: Disputes between Brussels and many Member States, especially Hungary and Poland, are not new, but they have taken on a new dimension in recent years. The Poles, for example, are overwhelmingly pro-European, in stark contrast to the Conservative Right-wing government. But the people of Poland and Hungary do not want to live under a corrupt government that steals their rights and the funds the EU sends to help them really prosper. It is for these citizens that we welcome, live and support a new way of conducting politics, a way in which citizens have a voice. Indeed, one reason why the EU can be considered anti-democratic is that it is not really democratic enough. The solution we see is a European government, elected by a parliament and a European Constitution, that ensures protection and empowers citizens to build a fairer society. We believe that this is the best measure against populism.
In the current circumstances, in which the authority of the committee is being challenged, how can this be made possible?
Reinier: In the globalized world of the 21st century, we face challenges and opportunities that transcend borders. For example, the fight against climate change is in favor of our vision. The fact that the governments of Hungary and Poland are challenging the EU gives us extra incentive to defend what we believe. We want to reform the EU and address the current challenges of the committee's supremacy. We are already seeing how necessary this is and the national parties are reaching their limits. Many citizens in Poland and Hungary do not agree with their government. This is why Volt is also active in Hungary and Poland to bring about change from within.
You say that the national parties are reaching their limits. What do you mean;
FRD: We believe that endless bilateral negotiations do not yield the best results in meeting the challenges of our time. How can individual Member States deal with Russia and China? How can we tackle climate change effectively if much of the damage a country does to the environment does not only harm its own citizens? Should every country on the planet make its own selfish account? And vice versa: how easily could we distribute refugees fleeing war in Europe, if everyone got their share? We are witnessing a denial of responsibilities and countries like Cyprus are left alone to face a problem. The world has evolved so that major political battles do not take place within national borders. Therefore, parties that take into account only their national perspective are not able to produce long-term results. We live in an interconnected world. Therefore, European affairs are matters for all of us.
So are we talking about a European superpower? How can this be possible when, for example, cultural differences remain so intense?
Reinier: We reject the notion of a centralized superpower portrayed by nationalists. It is an attempt to demonize Europe's further integration, in areas such as defense, energy, immigration and social policy. Cultural diversity is the beauty of Europe! What we want to promote is a Europe that is 'united in diversity', a Europe that shows that we can work together and achieve great things together with other Europeans – even if they are used to eating different foods or singing different songs from us. There is more that unites us than divides us.
For this to happen, there must be a European national identity, which seems more theoretical than pragmatic. How do you define European identity?
FRD: The concept becomes theoretical if we try to envision a federal Europe based on the concepts of nationalism that come from the 19th century. Instead, we want to focus on what already exists: a common history and a common culture. Of course, further integration gives birth to the identification with the European project, which is stronger than what we see today and we are leading in it, promoting European policies, bringing people, policies and ideas to the same table. In fact, what is politics, if not building a common vision for our society? Europe's recent history is already fulfilling its potential to be highly integrated: it is the history of peoples at odds and illegally separated from tyrants, only to lay down their arms and share their productive capacity to prosper together. A common European identity must be rooted in the common values of all of us: democracy, freedom and solidarity with the weakest, no matter where they are or where they come from.
Could this identity ever be strong enough to place itself above national identity in individuals from different countries?
Reinier: It should not be placed on top, but next to our national identity. European identity can offer more than sufficient identification with a Europe that works together for the benefit of all, without having to "dominate" national identity. Identity is fluid and therefore always evolving. As history has shown, people's identities are evolving. Just 40 years ago, Spain and Portugal ended long periods of dictatorship to democratize. Since then, "national identities" in Iberia have changed radically to an open and progressive identity. Identities are also in the plural. They consist of multiple layers and dimensions simultaneously. For example, on a personal level, I feel like a "resident of Amsterdam", a Dutchman and a European at the same time. This European piece has grown in recent years by meeting so many Europeans and seeing that there is less that separates us and much more that unites us! This European identity is reflected in what Volt wants to achieve. We want to cultivate a united federal Europe that has room for all cultural identities.
EU Member States could not take a common position on foreign policy (Ukraine, Turkey, Libya), because everyone's attitude is based on national, economic, political interests. Who will determine the interests of the federal Europe you envision?
FRD: We are proposing a federal European Union, in which the key responsibilities affecting all citizens are vested in the European Parliament, which has been democratically elected to represent the European people. The interests of states and regions can be represented by a federal senate, which will replace the current European Council. But, in all matters that are truly European (climate change, foreign policy, etc.), the European interest is simply wider than the individual national interests, if we are to deal with them effectively. Therefore, instead of the current European Commission, which is merely the "secretary" of the Member States, we are proposing a European government with executive powers, headed by a Prime Minister appointed by parliament. In this context, the expression of public opinion will be shaped by legislative and executive decisions by a representative and democratic body. At present, we leave each of the 27 Member States having the right to veto key decisions, which of course leads to inaction, which harms all participants. (The abolition of the veto removes all power from the small states !!!).
Konstantinos Christofidis: "We share the same values"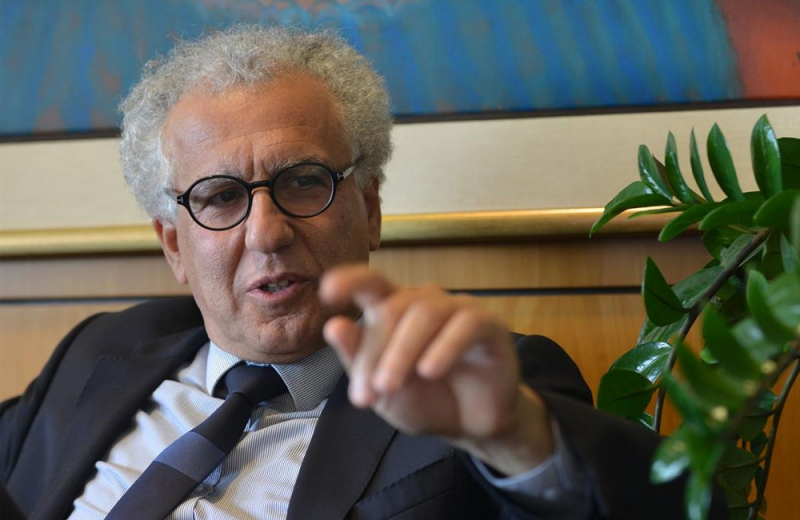 "On Thursday, November 4, 2021, New Wave – The Other Cyprus and Volt Europa formalized their cooperation, by co-signing a Memorandum of Cooperation. The two movements will work closely together and eventually merge. With immediate effect, the Cypriot Volt team is now active in the country under the name New Wave || Volt Cyprus – The Other Cyprus and in English Neo Kyma || Volt Cyprus – The Other Cyprus. Volt Cyprus will soon become a member of Volt Europa, like Volt of Germany and Volt of the Netherlands, which recently won three seats in the European Parliament.
By signing this important agreement with Volt Europa, we became part of a larger, modern pan-European political movement – a movement that we hope will evolve into a sweeping wave, as our name suggests.
We signed this agreement because we share the same values:
• For a federal Europe
• A Europe with a common border, a common foreign policy and a common European Army
• A Europe with a common market and economy, for the well-being of all European citizens
• Respect for human rights, freedom, democracy and equality at the heart of our ideals
"The United States of Europe, under a Federal Constitution, is our common vision, as envisioned by Victor Hugo and many other European thinkers."