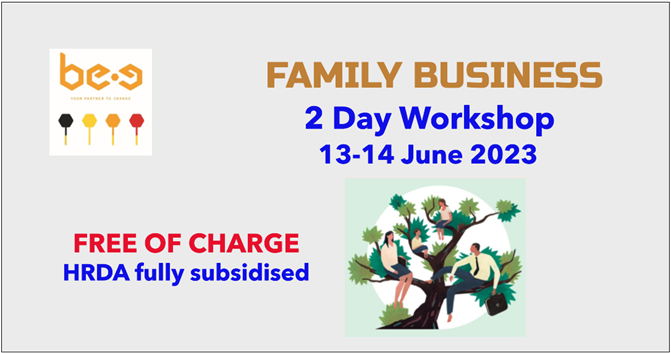 Two-Day Workshop of Vital Importance – Fully Funded
The Two-Day Workshop is repeated on June 13 and 14 with a full grant from ANAD.
The aim of the workshop is to inform Family Businesses (Shareholders and Future Shareholders as well as Executives) to prepare in matters of relationships, communication, leadership but also in matters of good Governance such as the Importance and Function of the Board of Directors and the Succession Process. Ideal for family businesses, small and large, preparing to move on to the next generation. The laboratory offers several useful supplies for a healthy and long-term course of the Family Business and also of a loving family.
The workshop is conducted by Elie Wakil, Dimitris Loukaidis and Mario Loukaidis, who make up Be.e Philosophy, with a total practical experience of 120 years in multidimensional fields and organizations both in Cyprus and abroad.
Some comments from the previous seminar (as written):
Thank you all so much! Everything was really helpful and interesting
Great job by all – well done!
Thank you for an excellent break from our busy routines. Your positive vibes and complimentary attributes within the presenters is what makes all 3 of you a great combination!
It was probably the only seminar I attended and hours passed without understanding it. Very Interesting.
Finally, Βe.e Philosophy and the participants would like to thank ANAD for positively seeing this effort and re-approving the seminar in the category of Vital Importance thereby facilitating a significant number of companies to participate without incurring any costs. For information/registration contact 22-255311