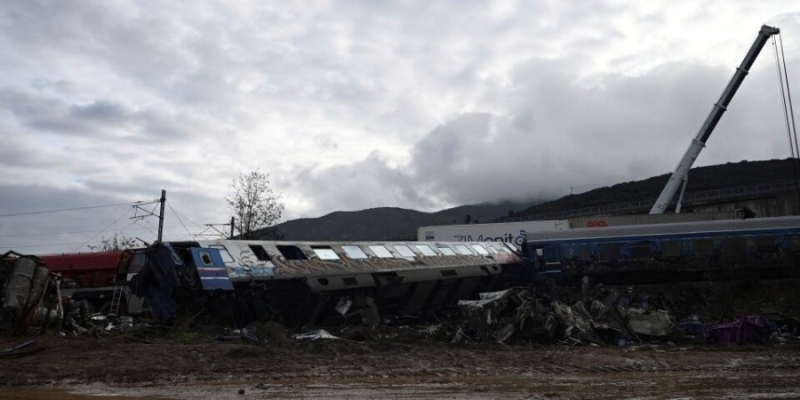 After about 7.5 hours, the marathon apology of the Larissa station master to the investigator about the Tempe tragedy was completed.
According to information, the 59-year-old did not appear with an apologetic statement, but immediately began to answer the questions.
Then, with the agreement of the investigator and the prosecutor, the station master was remanded in custody.
the stationmaster had been taken to the courthouse early in the morning, but the process was stopped before it started, due to some new evidence. At 2:00 p.m. he was called to enter the investigator's office to begin his statement.
The station master, it is recalled, had requested a new deadline yesterday through his lawyer, who argued that new evidence has emerged on the case which he will contribute to the investigation. According to the station master's advocate, Stefanos Pantzartzidis, "these are decisive facts and we had to ask for a new deadline, so that we can study and evaluate them".
He is facing the aggravated charge of disturbing the safety of transportation, an offense that is prosecuted under a recent amendment to the Penal Code as a felony and carries penalties ranging from ten years to life in prison.
He also faces charges of serial negligent homicides, as many as the people who perished, but also charges for bodily harm with the same criminal classification, as many as the injured who came out alive.
However, according to the indictment that has been drawn up against him, the omissions are serious, they are not limited to his mistake of putting the train in the wrong direction, but they continue, as from the electronic system that is valid up to a point in Larissa, he could to see the wrongly moving train and correct his fatal decision.
The image of the moving train is at a distance of 5.5 kilometers from the time when the train started from Larissa station and there where there is the possibility of electronic monitoring of the movement. Then, such a system did not exist.
Also, according to the indictment, he did not take into account the –third error– the fact that he was notified by the station master of New Resources 17 minutes before the collision that the freight train was heading in the same direction. , understood what had happened when he learned about the tragedy.
Read also: Tempi tragedy: Marathons the apology of the station master-He takes a share of responsibility
Source: iefimerida, Kathimerini