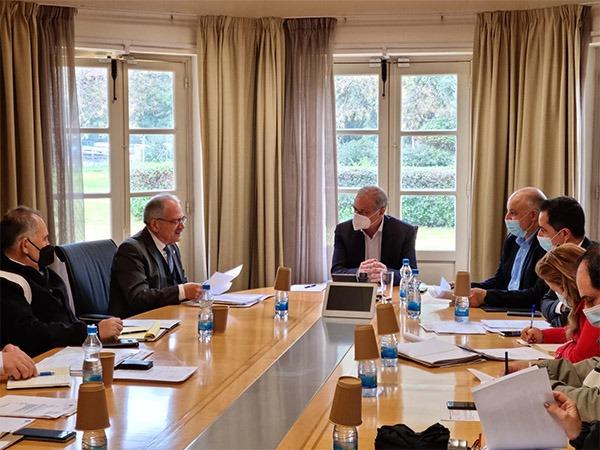 Insider / ΚΥΠΕ
The Minister of Interior, Nikos Nouris, discussed with the Mayor the work of projects that will change the physiognomy of the city of Limassol, as well as projects for the construction of houses within the affordable housing and affordable rent plan of the Cyprus Land Development Organization (KOAG). Limassol, Nikos Nikolaidis.
According to an announcement broadcast by the GTP, the meeting took place this morning at the Ministry of Interior, in the presence of the General Directorate of KOAG, Municipal Councilors of the Municipality of Limassol and officials of the Ministry of Interior.
In statements to the representatives of the mass media, Mr. Nouris said that the meeting with the Mayor and the Municipal Council of Limassol was held to review the projects that are in progress, or are wheeled in the Municipality of Limassol. He added that these are very important projects.
The big project is underway, in consultation with the COAG, for the construction of affordable housing and affordable housing, as well as a number of other urban projects, which are expected to literally change the physiognomy of the city. Limassol, said Mr. Nouris
He informed that the purpose of the meeting was to solve the problems presented by some projects. "I think it was a constructive discussion. "We have bowed to the specific problems and concrete answers and solutions have been given," said the Minister of Interior. He noted that "in the near future we will constantly monitor the specific projects."
He said that being stable in the position of the Government, "immediately those projects that are considered mature are promoted, but also the projects that can run during the current year. The projects that present problems will be planned for next year", he added.
The Mayor of Limassol, for his part, said that a number of projects related to the Municipality of Limassol were discussed with the Minister, such as the construction of affordable housing infrastructure, but also urban projects such as the connection of Franklin Roosevelt Avenue with the Limassol coastal road ( phase), the bypass of the center of Agia Fyla through the construction / improvement of Andrea Papandreou Street, the regulatory plan of Griva Digeni Avenue and Gladstonos Street etc.
The Mayor described the meeting as efficient, saying that decisions were made to further promote these projects on the basis of a timetable.