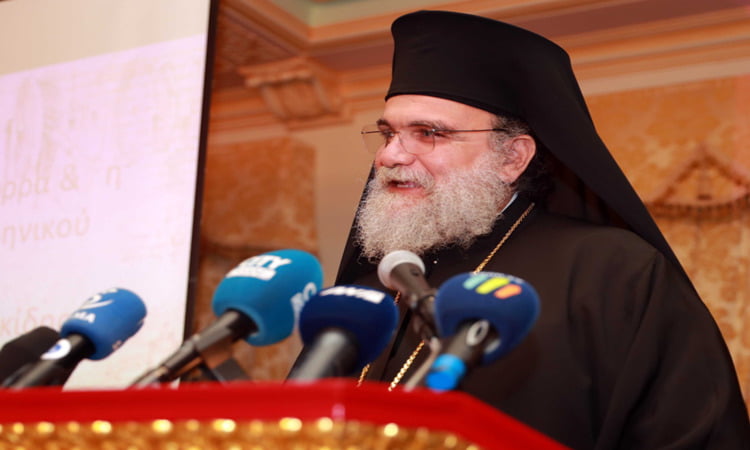 "True patriot…" the message of Tamasos Isaiah – Book presentation of the 1955-59 EOKA campaigner, Mr. Renou Th. Kyriakidis
Download the CYPRUS TIMES APP! HERE for Android and HERE for iOS
The Metropolitan of Tamasou and Oreini, Mr. Isaias, addressed the presentation of the book of the EOKA campaigner 1955-59, Mr. Renou Th. Kyriakidis, which took place in the Great Synod of Metochi of the Holy Monastery Kykkos, in Engomi.
In his greeting, Panierotatos said the following: "it is with great pleasure that I address an honorary greeting at the presentation of the book of the National activist and writer Renos Kyriakides "The Greece of the North and the Greece of the Pacific». Our dear friend Renos Kyriakidis, in addition to participating in national competitions, also wrote national and scientific books. He lived in a difficult time, when the trials of life were many and the circumstances were such that the Motherland called for struggle and sacrifices. Renos Kyriakidis, as a true patriot, responded with joy and great willingness to the call of the Motherland, without taking into account the risks and sacrifices. His great love for Greece led him to write several books related to the struggles of Greece and Cyprus".
Greetings were also addressed by the Excellency President of the House of Representatives, Mrs. Annita Dimitriou and the Associate Professor of History and Archeology of the University of Cyprus, Mr. Petros Papapolyviou. Afterwards, a speech by the author Mr. Reno Kyriakidis followed.
In addition to those mentioned above, present at the event were the representative of the Ambassador of Greece in Cyprus, Mr. Alexandros Konstas, the Commander of ELDYK, Colonel Mr. Panagiotis Keramidas, the former Speaker of the Parliament, Mr. Dimitris Syllouris, the former Minister of Justice and Public Order, Mr. Nikos Kosiis, the Mayors of Strovolos, Mr. Andreas Papacharalambous and Kythreas, Mr. Petros Kareklas, the Deputy Mayor of Strovolos, Mr. Giorgos Chrysanthou , fellow competitors of the author and fighters of the 1955-59 EOKA race, and quite a few people.