Through its long history, TRUST has remained committed to providing innovative and innovative insurance products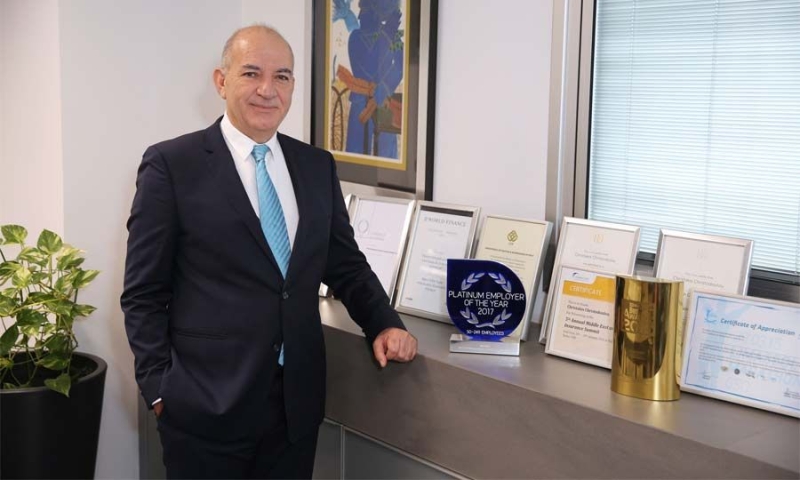 Mr. Christos Christodoulou, CEO of TRUST Insurance Cyprus.
Trust is perhaps the most precious and fragile emotion. But it is also the compass of TRUST Insurance Cyprus. Always focusing on the customer, TRUST protects and deepens the sense of security that everyone has the right to experience. Because the right insurance is not a luxury but a basic necessity for every individual, professional and entrepreneur. That is why TRUST, through its long history, has remained committed to the provision of innovative and innovative insurance products, personalized and adapted to the real needs of the customer.
Through a specialized analysis of needs, the Company as well as the professional insurance intermediaries in its network of more than 210, can propose the best possible insurance solution. With a wide range of products that exceeds 60, but mainly with multi-insurance options that give options even for All-Risk coverage, TRUST is the first choice for the modern man. As the rates of life and development (as well as threats) are dizzying, it is always one step ahead allowing the insured to sleep peacefully knowing that he is covered even against risks that he has not even imagined.
Cyber ​​Risk Insurance, TRUST's new product, is a safety net against a visible and highly probable risk.
TRUST has recently introduced its new business product, Cyber ​​Risk Insurance, to the market, which allows businesses victimized by cyber-attacks to limit their losses and return to their normal workflow as soon as possible and in no way weakened. A product that is a safety net against a visible and very likely danger. Of course, this does not mean that the Company treats digitization, especially of business, as a minefield. Instead, it invests in technology, providing the necessary tools to staff and the network to be able to serve at any time and from anywhere. Just as the needs of the modern citizen and professional dictate. In this way it also ensures the continuous development of the insurance intermediary, whose role changes and evolves into a truly valuable insurance consultant. No algorithm and no automation can replace experience, knowledge and the human approach to the industry since insurance was, is and will remain an entirely human affair.
The parallel evolution of technology and the human factor that ensure excellent service is one of the main pillars on which TRUST's long-term success is based. In fact, the Company welcomed 2023 strengthened by the excellent results of 2022, with the close of which it was confirmed that for another year the goals were exceeded. In the midst of a difficult business environment, TRUST achieved an increase in production with the largest increase being recorded in the Fire and Liability sector, which substantially contributed to its profitability growth. At the same time, its solvency index improved, while the foundations were laid for further technological upgrading. And all this, without sacrificing a single part of its wider social mission. It is already considering the possibility of providing insurance incentives for companies that have already made the transition to the Green Era or adopt ESG criteria in the way they do business.
At the same time, it has been awarded twice for its social footprint in relation to road safety. On the one hand, for the integration of the service "If you're going to drink, don't drive, but if you've been drinking or had a medical emergency, we'll transport you safely" in its Vehicle contracts, and on the other hand, for the pioneering initiative of providing personal breathalyzers on an annual basis in an effort to prevent harm by adopting a life-saving habit. Self-control before getting behind the wheel.
However, TRUST is not only recognized for its social contribution programs. It recently became the first company in Cyprus to be certified for the third consecutive year with the Platinum Employer standard of the international organization Investors In People. In particular, Investors In People ranked TRUST Insurance Cyprus in 1st place worldwide in the Finance and Insurance Activities category with 131 points above the threshold required for Platinum status. As a three-time Platinum Employer, and having also won the global distinction of "Platinum Employer Of The Year" over thousands of companies from dozens of countries, it is unquestionably an employer of choice for every professional looking for a career. Why another job and another career. TRUST Insurance Cyprus does not look for talent, it creates it. It's not about trust, it's trust. In TRUST We Trust!
CONTACT
79 Limassol Avenue, 1&3 Kosti Palamas Corner,
2121 Aglantzia, Nicosia
22050100
www.trustcyprusinsurance.com