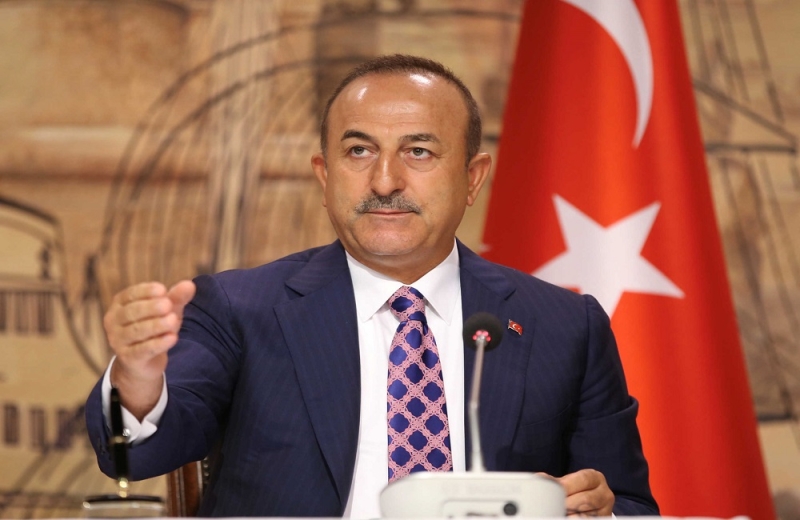 US President Joe Biden used the expression "Armenian Genocide" for the events of 1915 in his (yesterday) Sunday written statement, provoking a strong reaction from Turkey, writes the Turkish website milliyet.com.tr.
"One of the greatest horrors"
Joe Biden described these events as "one of the greatest mass horrors of the 20th century", adds the Turkish website and continues:
"We honor the memory of the 1.5 million Armenians who were displaced, slaughtered or killed, and we mourn the tragic loss of so many lives," he said. Biden became the first US president to use the term "Genocide" after Ronald Reagan, who used the same word in his statement in 1981.
Both houses of the US Congress had passed resolutions in 2019 describing the events of 1915 as "genocide" .
Experts say that recognizing the events of 1915 as genocide will have no legal sanction for Turkey, since the genocide was incorporated into international law in 1946 (that is, much later than the time it was committed).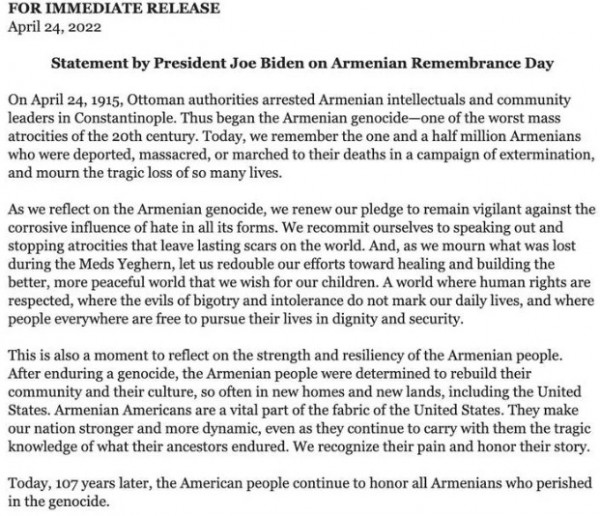 The Turkish website quotes the White House announcement on the 107th anniversary of the Armenian Genocide
"They are not valid"
"The statements about the 'events of 1915' are not in line with historical facts and international law and are not valid."
The following statement:
"Statements that are incompatible with historical events and international law regarding the events of 1915 are not valid. This includes today (yesterday) the unfortunate statement of US President Biden, which is a repetition of the mistake he made in 2021. We reject such statements and decisions that distort historical events with political motives and condemn those who persist in this mistake. >
"One-sided and selective approaches that serve no purpose other than to draw hostility from history are morally problematic and politically malicious." A humanitarian and conscientious attitude requires that we remember all the sufferings that were experienced at that time, regardless of ethnic or religious discrimination.
"Turkey respectfully honors the sufferings of the entire Ottoman population, including the Armenians. We reject attempts to use this pain as political material.
Turkey is of the opinion that controversial periods in history, such as the events of 1915, should be explored without prejudice, within the framework of scientific and legal principles, and a fair memory should be achieved. With this in mind, Turkey proposed the establishment of a Joint Historical Committee and opened its archives.
"Turkey seeks to ensure that peace and stability prevail in its region and in the world and in a spirit of cooperation. comes to the fore. The normalization initiative launched with Armenia is another manifestation of this understanding. "
" Example of their hypocrisy "
On social media, Turkish Foreign Minister Mevlüt Çavuşoλουlu noted: "Some Western leaders have recently argued that 'genocide' can only be determined by a court decision. Correctly! "The use of the word 'genocide' by the same people for the events of # 1915 with political motives without a competent court decision is the most obvious example of their hypocrisy."
https: //twitter. com/MevlutCavusoglu/status/1518196916634402817? ref_src = twsrc% 5Etfw