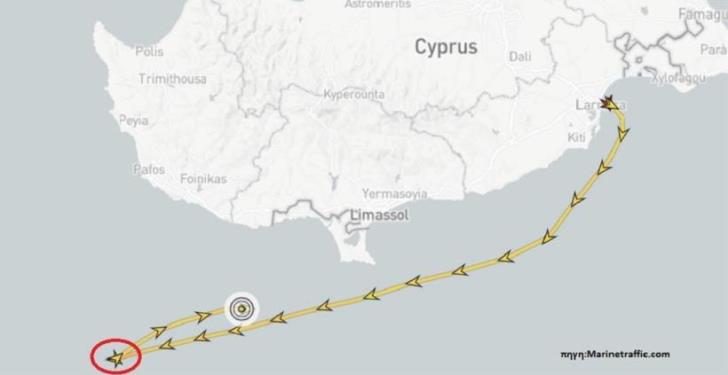 A Turkish frigate reportedly harassed the Nautical Geo research vessel inside the Cyprus EEZ early Saturday morning.
According to the same information, the frigate approached Nautical Geo and asked him by radio to leave the area.
It should be noted that the Cypriot authorities had issued last Thursday NAVTEX for investigations in an area of the demarcated Cypriot EEZ that even covered parts of Plots 1, 6 and 7.
Turkey then issued its own NAVTEX, stating that the area belongs to the Turkish continental shelf and that the Antalya station is responsible for issuing NAVTEX in the same area.
Nautical Geo, after being harassed by the frigate, seems to have made a U-turn and is now sailing east, into the territorial waters of Cyprus.
See the two NAVTEX
The Cypriot NAVTEX
ZCZC MA66
13 1400 UTC JAN 2022
JRCC LARNACA / CYPRUS RADIO / 5BA
NAV WRNG 013/22
S / V NAUTICAL GEO (MMSI: 248082000) WILL
EXECUTΕ OPERATIONS WITHIN EEZ OF
REPUBLIC OF CYPRUS FROM 14 UNTIL 21 JAN
2022 IN AREA BOUNDED BY THE FOLLOWING
COORDINATES:
34-20.635N, 031-26.407E
34-24.227N, 032-20.743E
34-20.107N, 032-20.634E
34-17.219N, 031-26.982E
ALL VESSELS ARE REQUESTED TO KEEP CLEAR
DISTANCE 1.5 NM
FROM NAUTICAL GEO DUE TO RESTRICTED
MANEUVERABILITY AND SAIL WITH CAUTION.
CANCEL THIS MSG ON 21 JAN 2022 23:00 UTC.
The Turkish NAVTEX
TURNHOS N / W: 0045/22 (Antalya NAVTEX Station) (Published Date: 13-01-2022 23:31)
TURNHOS N / W: 0045/22
MEDITERRANEAN SEA
1. THE AREA PROMULGATED WITH NAVTEX NR. MA66-13 / 22 BY AN UNAUTHORIZED STATION IS WITHIN TURKISH NAVTEX SERVICE AREA AND TURKISH CONTINENTAL SHELF DECLARED TO UNITED NATIONS, ON 18 MARCH 2020 WITH REF NR. A / 74/757.
2. ALL RESEARCH ACTIVITIES IN TURKISH MARITIME JURISDICTION AREA MUST BE COORDINATED WITH RELEVANT TURKISH AUTHORITIES.
3. NAVTEX NO. MA66-13 / 22 IS NULL AND VOID.
4. ADDITIONALLY, THE "CYPRUS" MENTIONED IN MA66-13 / 22 IS NOT THE ORIGINAL PARTNERSHIP STATE ESTABLISHED IN 1960. TURKEY DECLARES THAT THE TERM OF "CYPRUS" NEITHER AMOUNT TO ANY FORM OF RECOGNITION OF THE GREEK PYSTRATION AND OBLIGATIONS EMANATING FROM THE TREATY OF GUARANTEE AND THE TREATY OF ESTABLISHMENT OF 1960.
5. CANCEL THIS MESSAGE 212359Z JAN 22
in.gr