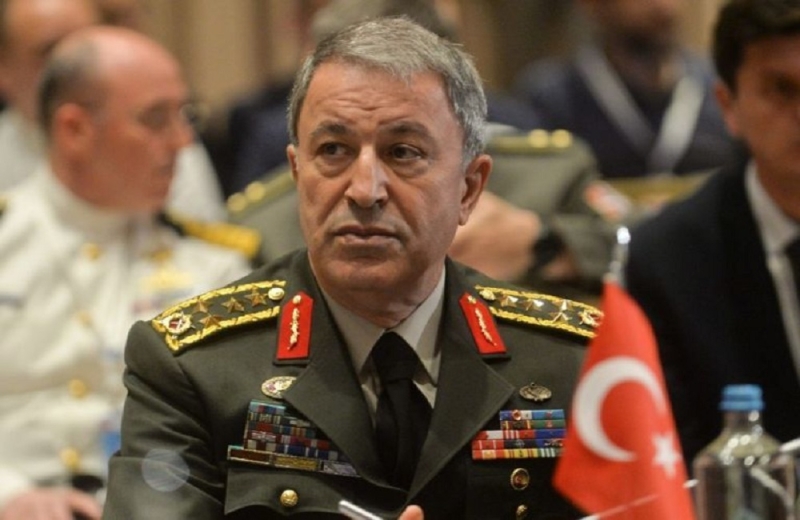 "There is no change in our responsibilities on the issue of guarantees in Cyprus, we are in the same place we were in 1974," said Turkish Defense Minister Hulusi Akar, adding that "what other countries do is their own business." He also said that the negotiations between Greece and Turkey are not progressing.
In an interview with the Turkish newspaper Milliet, the Turkish Minister said "we respect international law in our relations with Greece and always we are in favor of good neighborly relations. We want our existing problems to be resolved by peaceful means and methods. "
In this context, he said, "exploratory contacts, de-escalation procedures and meetings for MOE are being carried out. We say let's do this through three channels. It does not move forward. "
He claimed that "we are right 1 million times regarding the problems with Greece. No country in the world has 6 miles of territorial waters and 10 miles of airspace. 16 islands were equipped to circumvent the Treaty of Lausanne. "Greece continues its provocative actions and rhetoric, which is growing at specific times." the same way in the violations of Greece. We say to talk, to discuss, to solve problems through dialogue, but we always emphasize that we will not allow any accomplished event and that we will not allow the violation of our own rights or those of our Cypriot brothers. We are determined and able to prevent this. "
He claimed that "with this armament effort Greece bears a serious financial cost". "After all, their financial situation is well known. In these circumstances, they must see that the financial burden and the damage that such an excessive arms race will cause will fall on the backs of the people of neighboring Greece. "
"If they do this for Turkey, it is not enough, if they do it for their defense, it is unnecessary. We say hold the hand of friendship we tend to, but because they know we are right, they do not come to the table, they leave. "Turkey's friendship is important," he said. "We will always be one step closer to peace," Akar said. "Turkey is the guarantor of peace and stability both in the region and in the world, it is not a threat to anyone, on the contrary our country is a reliable, strong and effective ally."
"We will protect the rights and the law of our Cypriot brothers. "The action of our Cypriot brothers in coordination with Turkey is very important", he said.
Source: KYPE