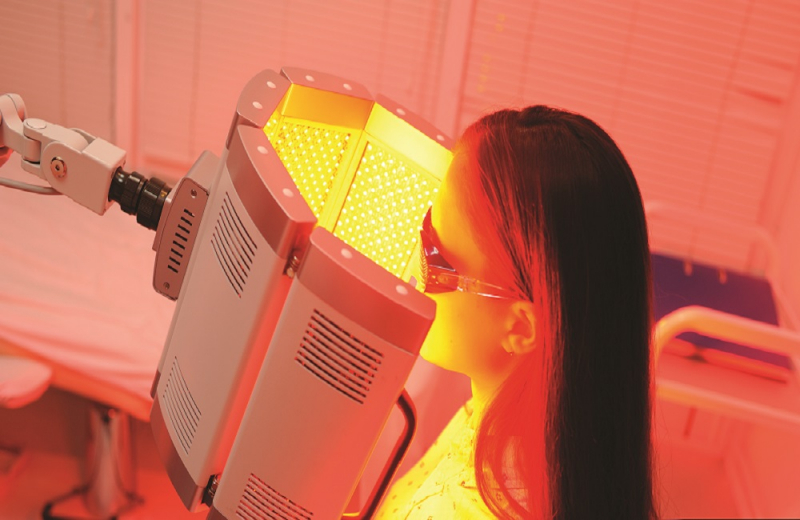 For years it has been known the suffering experienced daily by cancer patients in Paphos, who wake up every day at dawn to be at the Nicosia General Hospital for treatment. These patients are shouting that there is no oncology department at Paphos General Hospital and for years they have been hearing words and promises that are not being fulfilled. The problem, however, with the hospital of Paphos and the services it provides concerns not only the cancer patients, but also our other fellow human beings, with the difference that because they are few there is no one willing to listen to them. The case of 21-year-old Kyriaki Petros is typical, who spoke to "P" about the health problem that afflicts her and the daily indifference she experiences on the part of the competent bodies.
Out of order
Sunday was diagnosed in 2016, at the age of 16, with mycosis fungoides (MF). It is a rare disease with a frequency of 1: 1,000,000 of the general population. MF usually invades with flat erythematous spots or plaques, typically located in sun-protected areas of the body, making it often difficult or impossible to make a clinical differential diagnosis from eczema, fungal infections, plaque psoriasis and other skin rashes. .
The disease progresses slowly in the stages of plaques, nodules, tumors or in generalized erythroderma. According to the World Health Organization definition, spongiform encephalitis is the most common type of cutaneous T-lymphoma (CTCL), a rare form of non-Hodgkin's lymphoma in which malignant T cells in the body initially metastasize to the skin. causing the appearance of various lesions. It is an autoimmune which if not controlled can lead to skin or blood cancer. For this condition, as well as psoriasis, the use of PUVA therapy or photochemotherapy is recommended. And this is where the problems start for Sunday, but also for our other fellow citizens, as the phototherapy machine that exists at the General Hospital of Paphos is out of order. As Sunday explains, she accidentally discovered that there is this machine in Paphos, which was bought in 2014 and has worked rarely since. The machine is now abandoned in one of the hospital's warehouses, with Sunday stressing that even the hospital doctors did not know it existed. After they found out, at first they were told that service was needed and they could not find an engineer. Months later, when an engineer was found, the Electromechanical Service expressed the view that the machine could be repaired as long as the appropriate actions were taken to repair it.
No response
The above, according to Sunday, and what she has recorded in her letters to the former Minister of Health, Konstantinos Ioannou, to OKYPY, and even to the President of the Republic, happened in 2016 and early 2017. Since then, the 21-year-old today, Sunday, is forced to appear twice a week at the Dermatology Department of the General Hospital of Nicosia. At first she had to miss two days of school or as she explains, there were days when she left school at 11 and ran with her mother to come to Nicosia. "Many times we did not have time to arrive before 1 o'clock when the ward closes and the nurses were waiting for me to arrive," she points out, stressing that the entire duration of the treatment is exactly 30 seconds each time. As the years go by, this creates problems for her at work, with her explaining that many times her employers show understanding at first, but then fire her, as they can not have an employee who works only three times a week. The 21-year-old, in fact, stated that before she found the job in which she now works, she was unemployed for about 6-7 months and that was because no employer accepted her under these conditions. Unemployment, combined with the fact that for medical reasons she can not undergo phototherapy in the summer, has had the effect of exacerbating the problem, with Sunday explaining that, now, the scars on her body are even more obvious than before. , and her doctor urges her to do treatment up to three times a week. She noted that such a thing can not be done because she will lose her job again, because it is also a financial issue, while it is also a matter of psychology, due to the suffering she is subjected to every time. In order to be able to combine treatment and work, she wakes up at 4 in the morning on the days she has to go to Nicosia. Two hours later she arrives at the General Hospital of Nicosia where she needs to stay for five minutes, and then immediately begins the return trip to be at work at 8 in the morning. This is a situation that affects her both mentally and financially, with her explaining that if the machine that exists in the General Hospital of Paphos was working then things would be different for her. She could treat her three times a week, as her doctor currently recommends. As she explained, the treatment helps her to prevent the disease from progressing and developing into cancer. She also pointed out that when the treatment is done properly then the signs are reduced and she does not need to visit the hospital so often.
Second-class patients?
Apart from the psychological, it is also the financial cost of the treatment. As reported on Sunday, it needs 240 euros per month for gasoline, to which is added another 300 euros for medicines, creams and special shampoos. As a result, she needs about 600 euros a month for treatment purposes, while her salary is just over 800 euros. She also pointed out that she comes from a single-parent family and her mother supports her financially as much as she can, since she is the one who maintains the house. Even if he could work, it is financially impossible for him to come and go Paphos-Nicosia three times a week. She also explained that the whole situation has made her psychologically tired and that it is not at all easy for a 21-year-old girl to go through all this, while things could have been better, both for her and for other patients who suffer daily. They are not many, but the fact that they are a minority does not mean that they are second-class patients. "P" looked for other patients with similar diseases who face the same problem, thus ending up with 35-year-old Georgia from Limassol, who due to psoriasis needs to visit the Nicosia General Hospital once a month for treatment, noting that can not even imagine the suffering that Sunday experiences. In an effort to resolve the problem faced by Kyriaki and other patients, "P" contacted the current Minister of Health, Michalis Hadjipandelas, who asked for the letter to be forwarded to him for consideration. The letter has been in the hands of the minister since last Thursday afternoon and the issue is expected to be evaluated by the officials of the Ministry of Health in the next period.