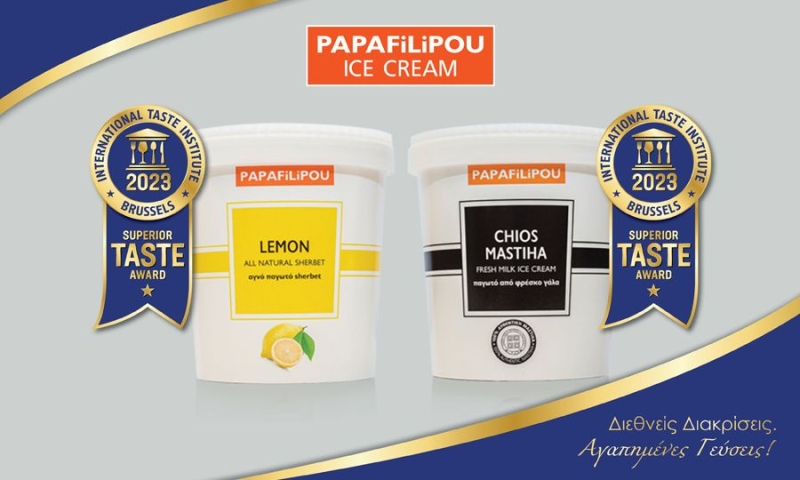 Two Superior Taste Awards for the < em>Ice creams PAPAFiLiPOU!
PAPAFiLiPOU Ice Creams received two international awards proving, once again, their top quality, putting our Cyprus back on the map of international gastronomy!
In June, the two favorite Ice Cream flavors PAPAFiLiPOU Mastic Chiou and Sherbet Lemon "traveled" to Belgium where they were evaluated after "blind" tests and received the very honorable Superior Taste Award* strong>, from the International Taste Institutebased in Brussels. A widely recognized certification awarded to products that meet or exceed the expectations of the jury, which consists of 250 established and renowned Chefs & Sommeliers, who come from 15 European Gastronomy and Sommelier associations.
The strict tasting methodology followed has contributed to making the Superior Taste Award, as the world's most recognized independent certificate, 100% focused on taste.
The Superior Taste Award is based in the evaluation of the organoleptic characteristics of a product (look, smell, taste, texture), while only products that achieve an average score of more than 70% are honored with the award, proving that they are well-made, balanced and extremely tasty through a sensory evaluation conducted through rigorous 'blind testing' methodology.
Both award-winning ice creams are produced from fresh Cypriot milk. Chios Mastic ice cream contains authentic Chios mastic, certified by the Chios Mastic Producers Association! While Sherbet Lemon, contains lemon juice from fresh Cypriot aromatic lemons!
Besides, it is no secret that the internationally recognized top quality of PAPAFiLiPOU ice creams, it is due to the pure ingredients used for their production, the long-standing knowledge of ice cream production, but also the love of all those who work for it every day, sharing delicious moments with us, thus contributing to "making the world a tastier place"!< /p> < iframe width='300px' height='500px' src='https://www.adstorebluebird.cy/api/banner/ServeBanner?zoneId=2734' frameborder='0' scrolling='no'>