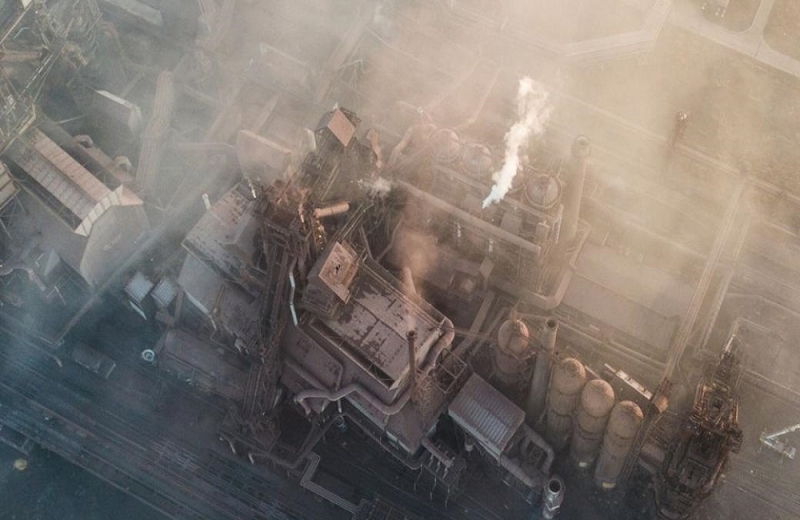 Russian forces continue to attack the Azovstal plant in Mariupol today, where Ukrainian fighters have been fortified, said aide to Ukrainian President Oleksiy Arestovich. "The enemy continues to attack our defensive lines in the area of ​​the Azofstal plant, using aircraft, artillery & # 8230; "They opened fire with tanks and tried to advance with an assault team, violating the command of their own commander-in-chief," Arestovic said in a video message. [ΑΠΕ & # 8211; EIA]
Reacting to information and statements from the Russian side, Kyiv assured that no agreement was reached today, Easter Monday, on the establishment of a humanitarian corridor which would allow the evacuation of civilians, who have been fortified along with Ukrainian fighters, at the Azofstal steel plant in Mariupol. & # 8220; I declare publicly and unequivocally that, unfortunately, there is no agreement on a humanitarian corridor from Azovstal today & # 8221 ;, Ukrainian Deputy Prime Minister Irina Verestsuk wrote in the Telegram, shortly after Russia announced that it would suspend hostilities to allow the evacuation of civilians.
& # 8220; It is important to understand that a humanitarian corridor opens with the agreement of both sides. A corridor announced unilaterally does not provide security and therefore is not a humanitarian corridor & # 8220 ;, Verestsuk noted in her post. Earlier, Interfax news agency reported that the Russian Defense Ministry had announced a ceasefire and the opening of a humanitarian corridor to evacuate civilians trapped at the Azovstal plant in Mariupol.
Russian forces and pro-Russian Ukrainian supporters pledge to & # 8220; unilaterally stop hostilities at 14.00 Moscow time (14.00 Greek time), withdraw their units to a safe distance and secure the withdrawal & # 8221; of civilians & # 8220; in the direction of their choice & # 8221 ;, announced the Russian Ministry of Defense, in a press release.
The ministry clarifies that the categories of people who are allowed to leave are women, children and factory staff. According to information, there are between 300 and 1,000 civilians in the steelworks. Sources quoted by Skynews say that some of those who have taken refuge in underground warehouses at the factory have been there since the end of February and have not seen the light of day for weeks.
Last week, Russia announced that Ukrainian troops could leave if they surrendered their weapons, but no fighters surrendered, and Putin had ordered Russian troops to block the plant so that it could not pass through. ; fly & # 8221 ;.
& # 8220; If civilians remain in the factory, we explicitly demand from the Kiev authorities to order the commanders of the (Ukrainian) nationalist forces to leave them & # 8221 ;, adds the Russian Ministry of Defense. It is noted that a video from the besieged Azovstal in Mariupol shows women and children saying that & # 8220; they are running out of power & # 8221; and must be removed urgently from the steel plant. The video, according to the Guardian, was filmed on Thursday by the Azov Order.
Russian attacks on 5 train stations & # 8211; The number of victims is unknown
Earlier today, five railway stations in the western and central part of Ukraine were targeted by Russian attacks. No casualties have been reported so far, but Ukrainian television has reported an unknown death toll, citing the head of the Ukrainian Railways.
Alexander Kamishin said the attacks took place within an hour. & # 8220; Five train stations were bombed for over an hour this morning. 16+ passenger trains were delayed. Victims were reported, details will be given later. "The Russians continue to destroy the Ukrainian railway infrastructure," Kashmin said. According to local authorities, Russia also shot down two Ukrainian drones near the border.
thetoc.gr