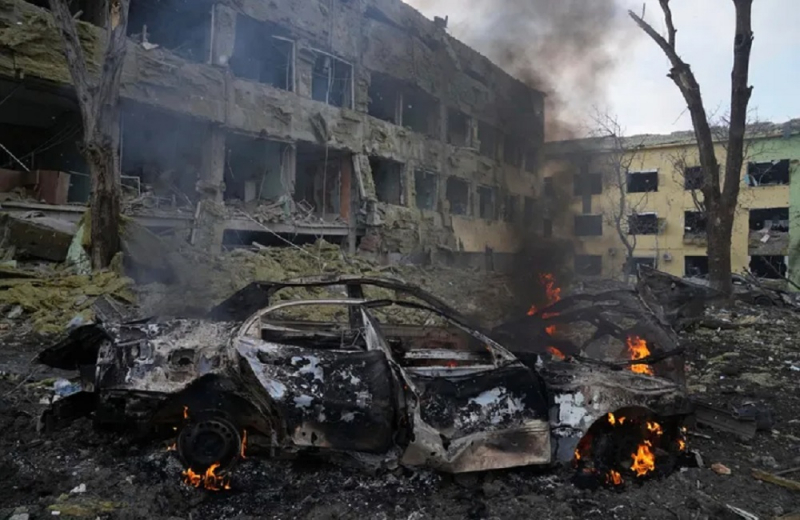 The United States has said that the Russian military is using unmanned aerial vehicles (UAVs) in its offensive against Ukraine, according to a Pentagon official. known (dumb bombs) – as opposed to so-called "smart bombs".
These bombs are classified as "stupid" because they have a significantly increased risk of losing their target and falling elsewhere & # 8211; even houses or other civilian buildings.
"We have indications that the Russians are actually dropping some stupid bombs," he said, adding that the United States was witnessing "widespread damage to civilian infrastructure and increased civilian casualties." Russia bombed a children's hospital in Mariupol.
Mariupol. Direct strike of Russian troops at the maternity hospital. People, children are under the wreckage. Atrocity! How much longer will the world be an accomplice ignoring terror? Close the sky right now! Stop the killings! You have power but you seem to be losing humanity. pic.twitter.com/FoaNdbKH5k

— Володимир Зеленський (@ZelenskyyUa) March 9, 2022
The use of unguided munitions in urban areas, if confirmed, would reinforce accusations of Russian indifference to civilian casualties.
At the same time, Western officials have warned of their "serious concern" that Vladimir Putin could use chemical weapons in Kyiv.
An ominous assessment says a "completely horrific" attack on the Ukrainian capital could be launched as Russian forces try to overcome problems they have apparently afflict the troops heading to the Ukrainian capital.
Western officials warning they have "good reason to be concerned about the possible use of non conventional weapons" – ie chemical and biological – by Russia in Ukraine

— Dan Sabbagh (@dansabbagh) March 9, 2022
A Western official said: "I think we have good reason to be concerned about the possible use of non-conventional weapons, in part because of what we have seen happen on other battlefields. As I mentioned earlier, for example, what we have seen in Syria. So it's a serious concern for us. "
huffingtonpost.gr