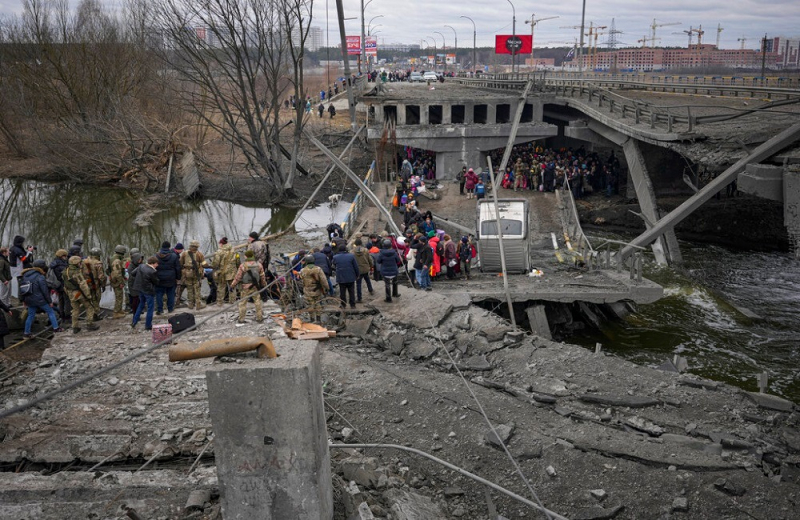 For the 12th day, the Russian invasion of Ukraine continues, around the capital of which the siege is constantly tightening. The fourth round of talks between Moscow and Kiev is now in the spotlight, as the last talks between Russian and Ukrainian officials ended just before 20:00 Cyprus time on the Belarus-Poland border, without any substantial developments. According to a Ukrainian negotiator, the talks with Russia did not lead to a significant improvement in the situation, while there were small, positive developments in the humanitarian corridors, as an agreement on logistical support for the evacuation of civilians was reached. <
Also on Monday, March 7, Moscow announced a temporary ceasefire and the opening of humanitarian corridors, with Kyiv rejecting the proposed solution, as it complains that the corridors lead to Belarus and Moscow, but for the time being, reportedly closed.
In connection with the talks, a Russian delegation arrived in the Belarusian city of Brest for talks with Ukrainian negotiators on ending hostilities, the Russian news agency RIA reported today, citing the airline Flight tracking website. The parties have not disclosed the exact location and time of their scheduled meeting for the negotiations.
Russia today boycotted hearings at the UN Supreme Court, in which Ukraine sought an urgent mandate to end hostilities, saying Moscow was violating genocide law to justify its invasion of Ukraine. For its part, the International Court of Justice announced that it will decide & # 8220; as soon as possible & # 8221; on Ukraine's request for an urgent order to Russia to immediately cease hostilities. The hearings began in court without legal representation of Russia. & # 8220; The fact that Russia's seat is empty speaks for itself. "They are not here in this Court: they are on the battlefield and waging an aggressive war against my country," said Ukrainian envoy Anton Korinevich. Urged Russia & # 8220; to lay down arms and present evidence & # 8221 ;.
Developments minute by minute: