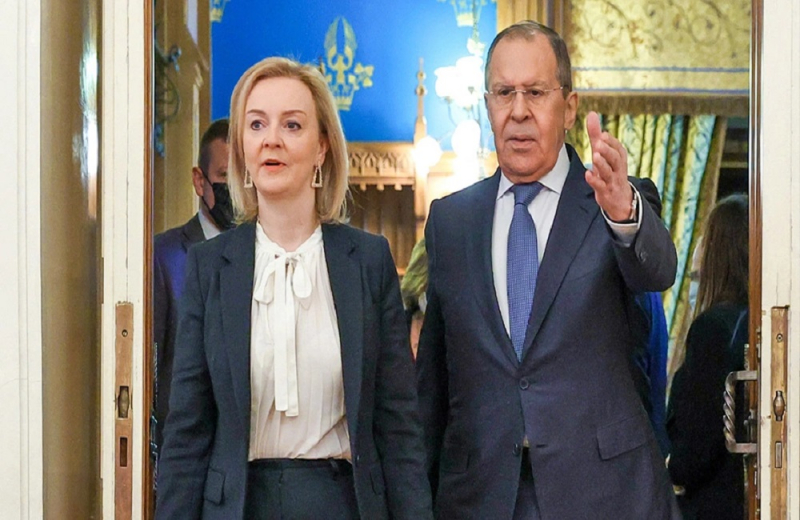 An unprecedented episode unfolded during yesterday's meeting between Russian Foreign Minister Sergei Lavrov and his British counterpart, Liz Tras , in Moscow, with the issue of Ukraine in the spotlight.
Russian Foreign Minister Lavrov once interrupted the British Foreign Secretary, who was talking to the translator, causing chaos, while as soon as their statements were over, he left visibly irritated, leaving Tra on the podium.
The episodic dialogue between the two ministers that has "frozen" Europe in the midst of the crisis in Ukraine began when Lavrov accused his British counterpart of refusing to listen.
In a joint press conference after the two ministers met in person, Lavrov said that in his meeting with Liz Tras he felt as if he was in a discussion with deaf people. " They say that Russia is waiting for the ground to freeze, like a stone, so that its chariots can easily pass through Ukrainian territory. " I think that was the ground today with our British colleagues, " he said.
Trash directly challenged Lavrov's assurance that Russia was not threatening anyone with the deployment of troops and weapons near the Ukrainian border. " I see no reason why 100,000 troops should be stationed at the border other than to threaten Ukraine. "And if Russia is serious about diplomacy, it must withdraw those forces and stop the threats ."
Lavrov lamented the fact that they are asking Russia to withdraw troops from its own territory.
Watch the typical video from the tension between Sergey Lavrov and Liz Trash:
Russia's relations with Britain have been bad for years. They reached their lowest point with the poisoning and death of Alexander Litvinenko in London in 2006 and the assassination attempt on former double agent Sergei Skripal and his daughter in Salisbury in 2018 .
Lavrov argued that London had never presented evidence to support his allegations of Russian involvement in either case, or that Moscow had attempted to poison dissident Alexei Navalny in 2020 . He said that Trash did not change his tone during their two-hour meeting and that he ignored his explanations, while repeating statements and demands that Britain has made in the past.