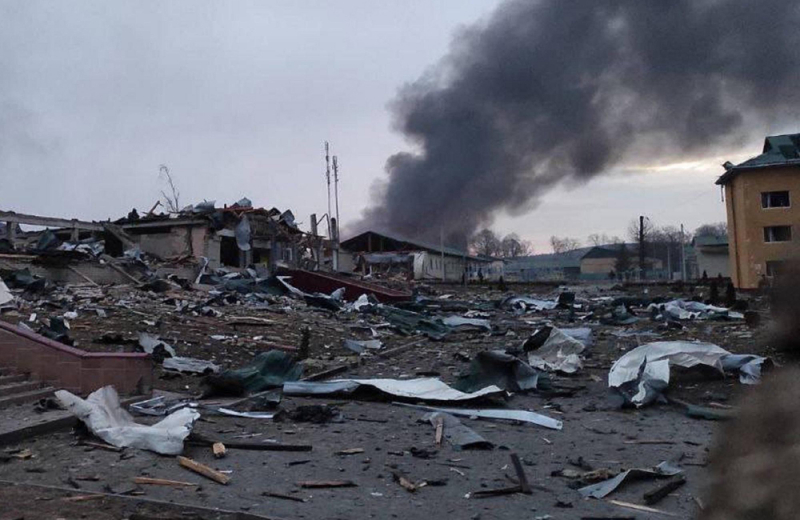 The war in Ukraine so far has been waged mainly in the east, north and south of the country, with the western regions having not yet seen the horrors of war, at least not to the same degree.
The deadliest attack in the western part of Ukraine took place on Sunday, when the Russian army bombed a training base, killing at least 30 people, according to Ukrainian authorities.
Several Russian missiles hit an aircraft repair plant this morning. , destroying the facility, informed the mayor Andriy Santovi.
The plant was out of order and the bombing did not cause any casualties, he added. Earlier, the same official had reported via Facebook that Russian missiles "hit the Lviv airport district", but not the airport itself.
Earlier, Ukrainian television reported that three powerful explosions were heard in the city. . A French Agency reporter also reported that he saw a thick column of smoke rising in the area and heard the sirens of police cars and ambulances moving towards the location where the explosions were heard.
— Newsistaan (@newsistaan) March 18, 2022
The importance of Lviv So far, the picturesque city of western Ukraine has largely escaped the bombing of Russian forces.
CNN, in its analysis, refers to why Lviv is so important.
For its location
It is located about 70 kilometers from the Polish border. According to the American Media, Lviv is on the "threshold" of NATO. Any attack there could have international repercussions.
The wider area serves as a critical point and corridor for arms supplies to the Ukrainian army.
For refugees
Lviv is a hub for displaced Ukrainians. It hosts more than 200,000 refugees in a city of just over 700,000, according to the mayor. Refugees have flooded the city in search of safety, with many using it as a stopover before reaching the border.
For its culture
Temporary base for journalists and diplomats
The city has become a temporary base for many media outlets and embassies, which have been relocated from the Ukrainian capital, Kyiv.
CNN's analysis also refers to last Sunday's attack, saying: Last Sunday, Russia expanded its offensive in western Ukraine, firing missiles near Lviv and hitting a large military base near the Polish border, killing dozens of people and bringing the war closer to a NATO country. The attack came a day after the Kremlin threatened to attack convoys carrying weapons to Ukraine. "