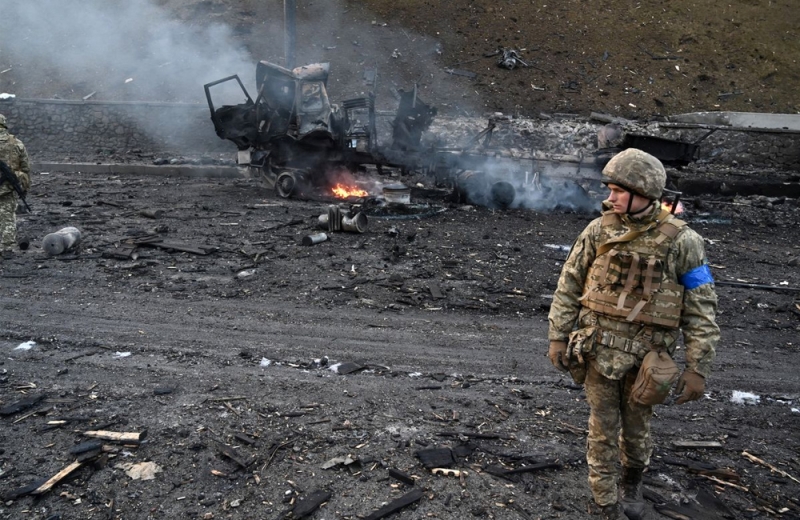 Ukraine has suffered heavy casualties in the war with Russia, but Moscow has lost many more troops, according to a Ukrainian official, as fighting erupts as the United States defends its decision to send weapons to Kyiv. Ukraine has suffered heavy casualties in the war with Russia, but Moscow has lost many more troops, said Oleksiy Arestovich, an adviser to President Volodymyr Zelensky.
described the situation on the fronts as difficult but controlled.
Two Russian missiles struck Kyiv on Thursday during a visit by the head of the United Nations, Ukrainian officials said, but the West believes that fighting over the besieged port of Mariupol and other areas to the east and south could determine the outcome of the war.
Russia withdrew its forces from Kyiv last month after failing to seize the capital and launching a massive offensive in the eastern Donbass region of Ukraine.
But Thursday's blasts in Kyiv, which erupted shortly after UN Secretary-General Antonio Guterres's talks with Ukrainian President Volodymyr Zelensky, raised concerns that the capital remains vulnerable.
Zelensky said the explosions" prove that we must not abandon our vigilance. "We should not believe that the war is over." Ukrainian officials.
Reuters eyewitnesses heard two explosions, but their cause could not be independently verified. There has been no comment from Russia on the bombings.
Russian forces are now entrenched in the east, where Moscow-backed separatists have held territory since 2014 and hold a part of the south occupied in March.
The General Staff of Ukraine stated that Russia is intensifying its military attack on Donbas.
Moscow's attack on the east echoed new US military and humanitarian commitments to Ukraine on Thursday.
Hearing repeated calls For heavier armaments, US President Joe Biden has asked Congress for $ 33 billion to support Kyiv, a huge leap in funding that includes more than $ 20 billion in weapons, ammunition and other military assistance.
The American President yesterday rejected the accusation of Russia that the USA and NATO are involved in a war for & # 8217; Moscow's opponents in Ukraine, calling the "Kremlin rhetoric" false and disturbing and assuring that they are not attacking Russia.
Washington, says Biden, Kyiv to defend itself after the Russian attack and added that the international community must make Russia accountable.
Indirectly referred to the comments of Russian Foreign Minister Sergei Lavrov, who stressed earlier this week that the US and NATO are involved in a war for & # 8217; intermediaries against Russia, given the deliveries of large quantities of armaments to Ukraine. He described the weapons as legitimate military targets. He also warned that the current situation threatens the outbreak of World War III.
Mr Biden has said the United States is ready for anything Russia does, calling Russia's warnings about World War III and the use of nuclear weapons "irresponsible." Mr Biden had previously justified his request to Congress to approve more $ 20 billion worth of weapons in Kyiv, stressing that Washington could not remain a passive observer.
Kyiv has already received 10 anti-tank weapons for every Russian armor, the US President assured, insisting that Washington "is not attacking".
American and European armaments in Ukraine "threaten Europe's security." On Thursday, two large explosions were heard in the Russian city of Belgorod near the border with Ukraine. two witnesses told Reuters. It was not clear what caused them or whether there were casualties or damage.
Ukraine has not directly accepted responsibility for the strikes inside Russia, but says the incidents are retaliatory./p>
Meanwhile, the US Mission to the OSCE Security Council said the Kremlin could launch & # 8220; fake referendums & # 8221; in southern and eastern areas it had occupied since the invasion of 24 February.