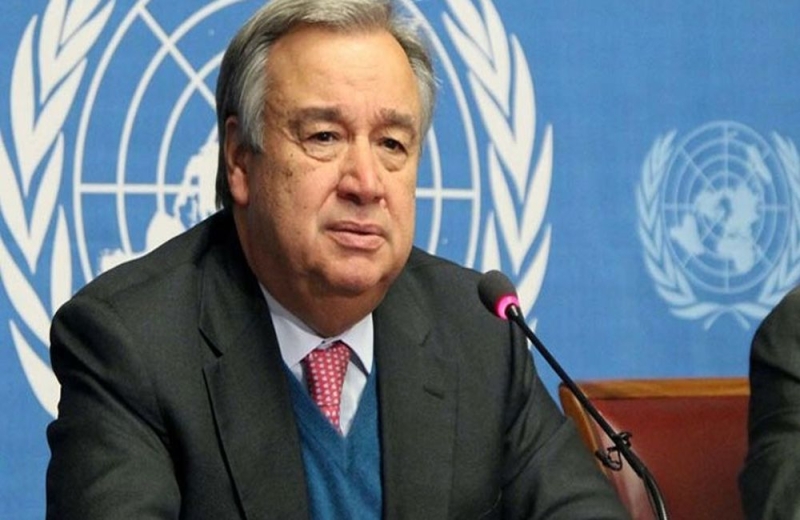 Following Russia's invasion of Ukraine on February 24, the UN has been marginalized, in part because of a rift in the Security Council, whose permanent members include Russia, France, Britain, the United States and China./p>
Kiev's priority is EU membership
Ukrainian President Volodymyr Zelensky said today that he had not seen or heard anything about the Kremlin's draft terms for ending the war, which he said he had sent to Kyiv. Earlier, Kremlin spokesman Dmitry Peshkov said Moscow was waiting for "a response" after handing over the document to the Ukrainian side.
In a press conference in Kyiv with European Council President Charles Michel, Zelensky said that Ukraine's accession to the EU is a "priority" for his country. "It is a priority for our state, for the power of our people," he said. For his part, Michel assured that the EU will do "everything it can" for Ukraine to "win the war" and noted that the EU has so far provided 1.5 billion euros in military aid to Kyiv. p>
Finland: One step closer to NATO membership
Finland today took a step towards NATO membership, as the country's major parliamentary groups voiced their support for some form of military alliance in response to the Russian invasion of Ukraine. The Finnish Parliament today began debating the possibility of the Nordic country, which has a 1,300-kilometer border with Russia, joining NATO. Prime Minister Sana Marin's Social Democrats declined to mention NATO in their speeches, but nevertheless voiced support for the idea of ​​a military alliance.
Talks with Kyiv depend on readiness to heed Moscow's demands, Lavrov says.
Russian Foreign Minister Sergei Lavrov told the Turk today Mevlüt Çavuşoλουlu's counterpart in a telephone conversation between the two officials said that the outcome of the talks with Ukraine depends entirely on Kiev's readiness to take into account Russia's demands.
The Russian Foreign Ministry also said that Lavrov and Tsavousoglu discussed the situation in Mariupol and possible measures aimed at providing security to civilians, including foreign nationals.
He left French Finance Minister before the Russian representative speaks
US Treasury Secretary Janet Gellen and European Central Bank President Christine Lagarde have expressed dissatisfaction with the personal presence of a top Russian official at today's G20 summit. According to a source speaking to Reuters, Glenn said she disapproved of Russia's presence at the summit, while Lagarde urged Russian Finance Minister Timur Maximov to send a clear message to the Russian leadership: end the war in Ukraine. . A second source confirmed that Maximov was present at the meeting.
Earlier, French Finance Minister Bruno Lemerre urged his Russian counterpart not to attend the G20 summit. "We demand that Russia immediately cease its military action and refrain from participating in G20 meetings. "War is not compatible with international co-operation," Lemerre said in a video call. According to a French ministry source, Lemerre left before the Russian representative spoke.
Fewer people managed to leave Mariupol today
Fewer buses than planned were able to reach civilians today in the besieged Ukrainian city of Mariupol and not many people were evacuated , said the Donetsk regional governor. Pavlo Kirilenko made the remarks after the mayor of Mariupol said today that he hoped 90 buses could enter the city and evacuate some 6,000 people trapped in the besieged city – mostly women, children and the elderly. "People gathered at the agreed meeting points, but a few of them got on the buses," he said, without giving details.
A little earlier, two eyewitnesses told Reuters that dozens civilians boarded a small bus convoy in Mariupol and then left a designated evacuation point for Ukrainian-controlled territories.