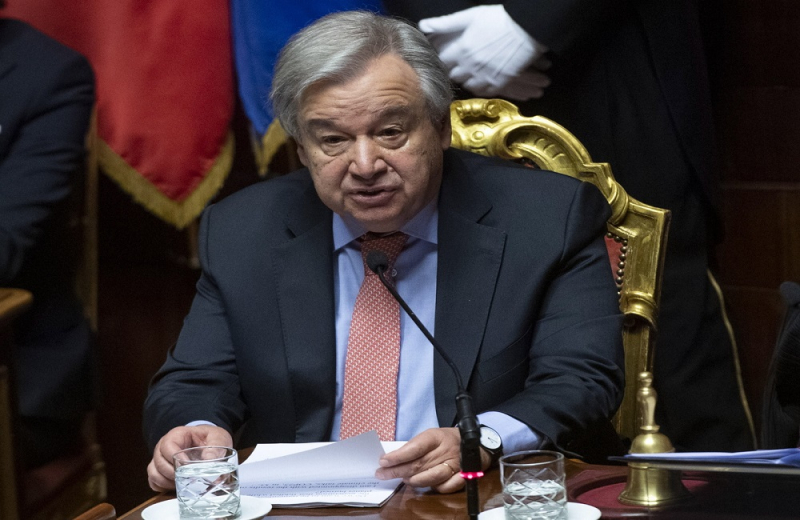 "Russia's decision to recognize self-proclaimed & # 8220; independence & # 8221; "In the Donetsk and Luhansk regions, and what followed is a violation of the territorial integrity and sovereignty of Ukraine and is inconsistent with the values ​​of the United Nations Charter," Guterres said at the start of a UN General Assembly meeting. .
Speaking afterwards, Ukrainian Foreign Minister Dmitry Kuleba stressed that Ukraine was not a threat to Russia. "Ukraine has never anticipated and does not anticipate any military operation in Donbas," he said. Russia itself and its military reinforcements.
"The beginning of a large-scale war in Ukraine will be the end of the world order as we know it," Kuleba warned, urging members of the United Nations not to recognize the independence of the Donetsk and Luhansk regions.
"Russia must rediscover the path of diplomacy", "withdraw its troops, stop destabilizing the region", noted the head of Ukrainian diplomacy.
"We want peace!" , he said at the end of his speech, which was applauded by the UN General Assembly.
Today's General Assembly, attended by the 193 member states of the United Nations, is an annual meeting on the "temporarily occupied Ukrainian territories", organized after the annexation of Crimea by Russia.
The US ambassador also warned of the possibility of 5 million refugees.
Russia's conflict with Ukraine could translate into "a new refugee crisis" with "up to 5 million more displaced", US Ambassador to the UN Linda Thomas Greenfield warned today before the UN General Assembly.
"If Russia continues on this path, it could, in our estimation, create a new refugee crisis, one of the most important that the world will face, with up to "In addition, 5 million people have been displaced by the war waged by Russia and the pressure it is exerting on Ukraine's neighbors." is the result of the & # 8220; coup of 2014 & # 8221 ;, which led to a change of government in Ukraine.
Since then, Kiev has been carrying out a "repression" against the Russian-speaking minority in Ukraine, in a first at the UN The term "genocide" was recently used by President Vladimir Putin.
Russia.