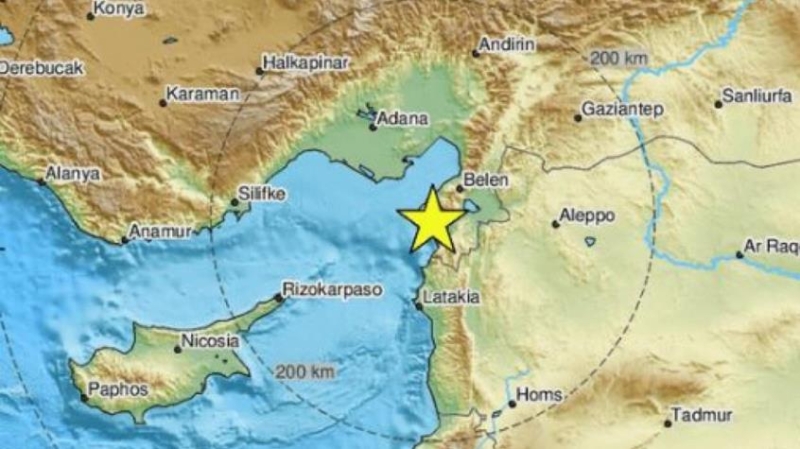 The earth continues to shake in Turkey, with residents living under a constant regime of fear as three earthquakes, 6.4, 5.8 and 5.2 on the Richter scale, were recorded in less than an hour. The first seismic tremor 6.4 degrees was recorded according to the Euro-Mediterranean Institute, at 19.04 (Cyprus time, 20.04 Turkey time), in the southern province of Hatay, one of the areas affected by the devastating earthquakes of February 6.
The epicenter of the earthquake was located in Defne, according to the Turkish disaster agency AFAD.
The epicenter of the earthquake was located 14 km southeast of Antakya in Turkey and 70 km north of Latakia in Syria.
The focal depth of the earthquake is 10 km.
Eyewitnesses told Reuters that damage was reported to buildings in Antakya and others that the earthquake was felt in Syria, Egypt, Lebanon and Cyprus.
⚠Preliminary info: #earthquake (#deprem) about 20 km W of #Antioch (#Turkey) 4 min ago (local time 20:04:28)❗MAGNITUDE NOT AVAILABLE YET❗Updates at:
📱https://t.co/LBaVNedgF9
🌐https://t.co/AXvOM7I4Th
🖥https: //t.co/wPtMW5ND1t pic.twitter.com/AYezy25hm1

— EMSC (@LastQuake) February 20, 2023
Felt #earthquake M 6.2 – TURKEY-SYRIA BORDER REGION – 2023-02-20 17:04:29 pic.twitter.com/DUr4uIkuRB

— SSGEOS (@ssgeos) February 20, 2023
A little later, after 20:07, there was a second big earthquake of 5.8 Richter in Samadag in Antioch again.
The earthquake of 5.2 Richter
A 5.2-magnitude earthquake struck central Turkey shortly after 9:30 p.m. (Cyprus time) on Saturday, according to the Euro-Mediterranean Institute.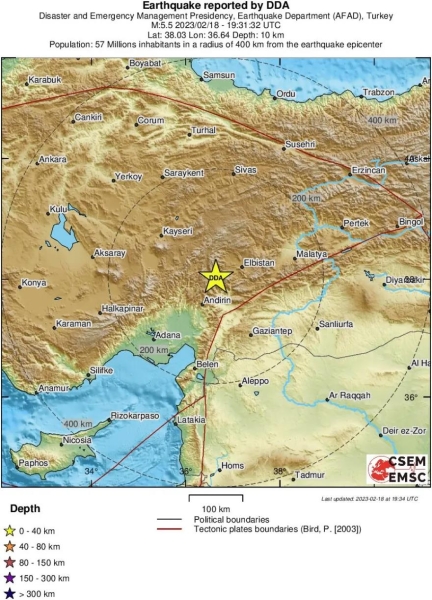 Feelable in Cyprus
In a statement, the Department of Geological Survey of the Ministry of Agriculture, Rural Development and Environment, in relation to the earthquake that was also felt in Cyprus, states that "on Monday, February 20, 2023 at 19:04 local time, it was recorded by the seismological network of the Department earthquake of seismic moment size Mw=6.4".
As he reports, "the earthquake was centered in the region of Antioch (Antakya), near the Turkey-Syria border. It was felt throughout the Eastern Mediterranean (in a radius of more than 500 kilometers from its epicenter), while in Cyprus it was felt throughout the island. This earthquake is considered an aftershock of the very strong earthquake of February 6, 2022 (Mw=7.8).&nbsp "The phenomenon is ongoing and is being monitored by the Seismological Center of the Geological Survey Department".
Turkey is full of debris and rubble
It is recalled that Kahramanmaras after the deadly 7.8 Richter earthquake is a leveled city. Few of the buildings were left standing from the devastating impact of the engelado, while the streets that were once full of traffic and people are now full of debris and rubble.
6.3 magnitude earthquake shakes Beirut pic.twitter.com/f8tlis7lc6

— Citizen Free Press (@CitizenFreePres) February 20, 2023
< p dir="ltr" lang="en">Lebanese People on the streets after the new #Earthquake pic.twitter.com/clPhA0bVNq

— MARIO ♋︎ 🇬🇧🇦🇪🇱🇧 (@mariotradleb) February 20, 2023
😱 An #earthquake with a magnitude of 6.4 occurred on the border of #Syria and #Turkey

Turkish media reports on the destruction after another earthquake in #Hatay province

TELEGRAM: https://t.co/Uw6hADCvaz pic.twitter.com/z7fh21OQxa

— BRAVE SPIRIT 🇺🇦 (@Brave_spirit81) February 20, 2023