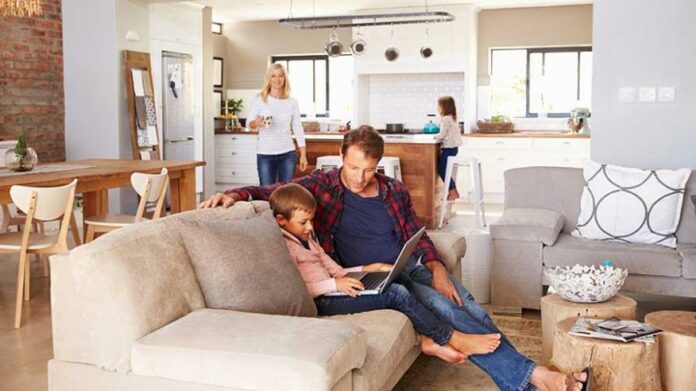 There is no end to the increases in residential real estate prices, both apartments and houses, whose values ​​continue to have strong returns.
At the same time, remarkable is the one-year increase in rents for holiday apartments and houses.
Almost 12% increase in apartments
According to the "RICS Cyprus Property Price Index with KPMG in Cyprus" for the fourth quarter of 2022, the best performance of all asset classes was once again apartments, recording an increase of 11.94% compared to fourth quarter of 2021.
The values ​​of houses, but also of office spaces increased by approximately 9% compared to the corresponding quarter of 2021.
A 4.72% increase was recorded in warehouse yields, while store values ​​increased by just 1.82%.
In the last quarter of 2022, increases were recorded in all property categories, with the exception of shops in Larnaca, which saw a decrease (-2.2%).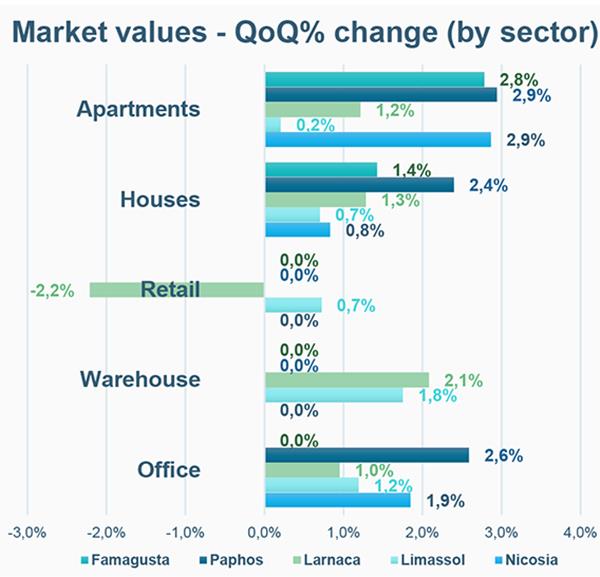 Paphos shows the largest increases in most property categories (2.9% in apartments, 2.6% in offices and 2.4% in houses), while Larnaca has the lowest.>
p>
The highest rate of increase in apartments was also recorded in Nicosia (2.9%).
In contrast, warehouse values ​​increased only in Larnaca (2.1%) and Limassol (1.8%), while shop prices fell sharply in Larnaca (-2.2%) and only marginally increased in Limassol ( 0.7%).
On top of rents
On an annual basis, rental values ​​showed an increase, with greater to be found in country apartments (20.88%).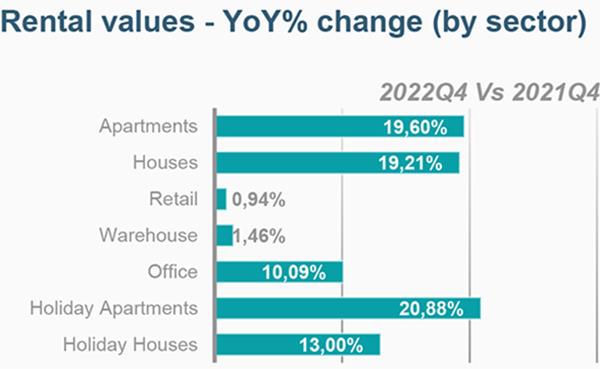 A little further behind are rents for apartments and houses, with increases of 19.6% and 19.2% respectively, while in summer houses the increase reached 13%.
The smallest rate of increase, just 0.94%, was for store rents, with warehouses following with an increase of 1.46%.
source: IN BUSINESS NEWS