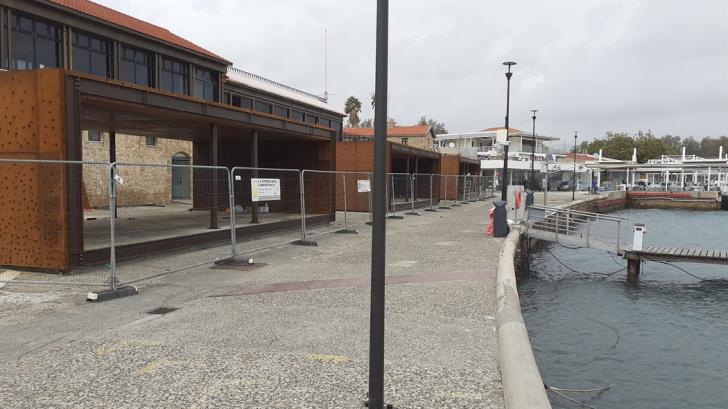 Dora Christodoulou
In recent days, the reaction and anger in Paphos for the attempted changes in the land area of the port of Kato Paphos is escalating.
The erection of iron structures in front of the stone buildings of the pedestrian street in the land area of the port, caused an uprising of organizations and citizens, as the completion of the iron additions gave the opportunity to many visitors to the area to realize the works that are already advanced.
Municipal councilors, local businessmen and ordinary citizens express strong objections from today, considering that the execution of the works for adding catering space in front of the shops, was done in a way that is not in line with the traditional character of the area and spoils the idyllic landscape of the port.
Businessmen operating in the port of Kato Paphos, told "F" today that their objections and disagreements have nothing to do with the intention of the Municipality of Paphos to increase the useful space for commercial exploitation.
"On the contrary, we consider any addition of a project in the area to add to the value of all businesses in the port," they pointed out. "However, this ironwork is an unthinkable addition. Neither the material, nor the construction part, nor the area it occupies, are in line with the graphic character of the port. An area that is the showcase of Paphos and the face of tourism in Cyprus ".
The protesters emphasize that in addition to the unsightly addition in relation to the traditional environment, these iron constructions will also create significant problems with the accumulation of heat during the summer months. They refer to the corresponding reconstruction efforts that had been promoted three decades ago and which the universal and angry reaction of the whole of Paphos, contributed to their cancellation, with the demolition of much larger concrete structures that had been added to the traditional warehouses in the area.
"Although the land area is the responsibility of the Municipality of Paphos", they state, "competent state or semi-governmental bodies in the port, such as the Department of Antiquities, the Port Authority and the Department of Fisheries, should intervene to make any improvement in an appropriate manner for this special area ".