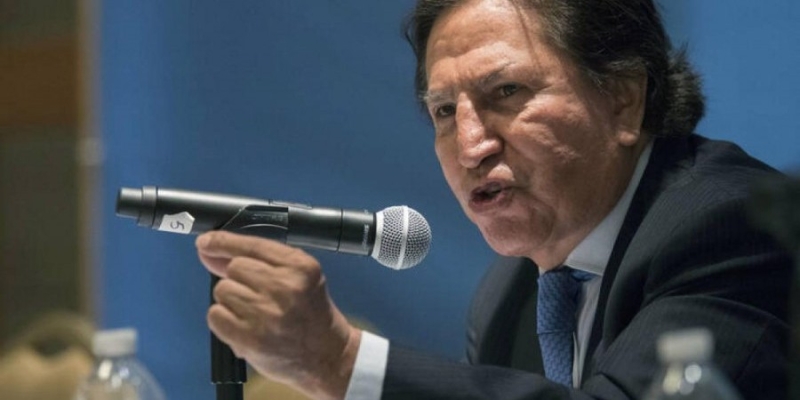 A California judge on Wednesday ordered the detention of former Peruvian President Alejandro Toledo in preparation for his extradition to Peru, where he is facing corruption charges.
Mr. Toledo, 77, was head of state from 2001 to 2006.
Peruvian justice requested his extradition because he is suspected of having received tens of millions of dollars from the Brazilian construction group Odebrecht, which is at the heart of a huge corruption scandal in Latin America, in exchange for public works contracts.
An appeals court rejected yesterday. Tuesday is the former president's latest appeal to prevent his extradition, which Lima has been seeking since 2018 and which was approved by the State Department in February.
And a judge in San Francisco yesterday ordered that he be jailed.
Mr. Toledo's lawyer "said he will not proceed to file another motion," in other words, an appeal, the judge said in his ruling.< /p>
The former president, who faces a 20-year prison sentence in Peru, is therefore required to appear at a San Jose courthouse Friday morning to be jailed.
He was arrested in 2019 in the USA, where he lived, after working at Stanford University, from which he had received a doctorate. He was initially imprisoned, then imposed on him by' house arrest in San Francisco while he was required to wear an electronic monitoring bracelet.
Mr. Toledo, accused of corruption and money laundering by Peruvian justice, insists on his innocence. However, his old partner, as well as a former Odebrecht executive, testified that he received millions from the Brazilian construction group.
Odebrecht has admitted to handing out tens of millions of dollars to politicians in Brazil and other Latin American countries to secure public works contracts. As part of the scandal, dozens of Latin American politicians and businessmen have been jailed.
Mr. Toledo is among a total of seven former Peruvian presidents who have been convicted or faced criminal charges for corruption: the list also includes Alberto Fujimori (1990-2000), Oyada Umala (2011-2016), Pedro Pablo Kuczynski (2016-2018), Martin Vizcarra (2018-2020) and Pedro Castillo (2021-2022). Another former president, Alan García, committed suicide to avoid arrest in 2019.
Peru's current president, Dina Bolluarte, is also facing a criminal investigation for "genocide" from the judiciary, as well as its former and current ministers, in the context of the political crisis that broke out in December.
Source: APE-MPE