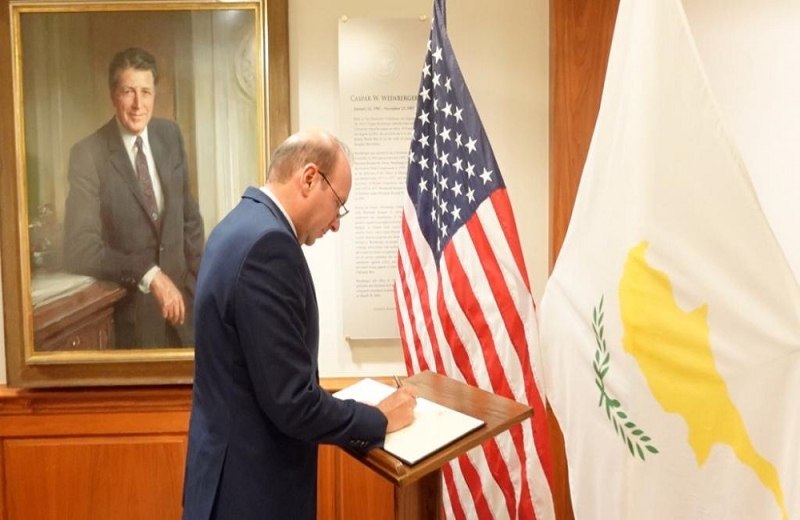 The meeting of the Cypriot Minister of Defense, Charalambos Petridis, with the American Undersecretary of Defense for International Security Affairs, Celeste Wallander, ended in a good atmosphere. This is the first visit of a Cypriot Minister of Defense to the US Pentagon.
In her introductory statement, the US Undersecretary made a detailed reference to the significant progress made in the defense cooperation between the two countries, while for her part, Mr. Petridis reminded that the Republic of Cyprus condemned from the very beginning the invasion of Ukraine and strictly complied with all relevant EU decisions.
The discussion revolved around the security situation in Cyprus and the wider region. In fact, special emphasis was given to the role that the various regional cooperation schemes in which Cyprus actively participates are called to play. In this light, a review of bilateral defense and military cooperation was made and then the prospects for further deepening of this relationship were analyzed.
"Minister Petridis's visit to the US Department of Defense, inaugurates "a new era for bilateral defense and military cooperation", the Cypriot Ministry of Defense noted in a post on Twitter. For its part, the US Pentagon spoke in praise of Cyprus' stance on Ukraine. The statement also noted that the two sides discussed their strong defense co-operation, including the Republic of Cyprus' participation in the International Military Education and Training program. "Undersecretary Wallander and Minister Petridis agreed to continue working to deepen the US-Cyprus relationship, continuing to seek new areas of cooperation," the source said. Source: RES-EIA