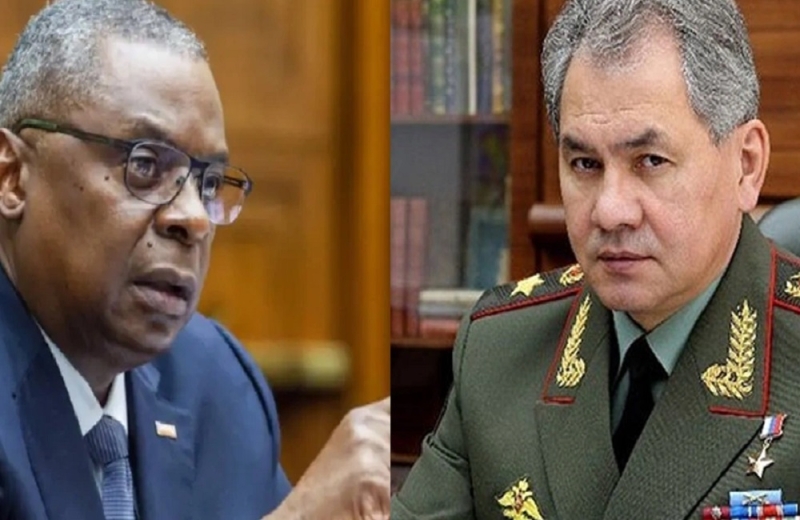 The first communication between US Secretary of Defense Lloyd Austin and his Russian counterpart Sergei Shoigu after the start of the war in Ukraine did not solve any "thorny problem", the Pentagon said.
"Telephone communication did not solve" "No thorny problem nor has it led to immediate changes in what the Russians are doing or saying," a senior Pentagon official told reporters.
US Secretary of Defense Lloyd Austin had a telephone conversation with Russian Defense Minister Sergei Shoigu, during which the Pentagon chief called for an immediate ceasefire in Ukraine and stressed the importance of maintaining the lines of communication, the Pentagon said. It was the first time since the Russian invasion of Ukraine on February 24 that the two top officials of the two countries communicated.
Their last contact was on February 18, Pentagon spokesman John Kirby said in a statement. Reuters reported that Austin had tried several times to speak with Soigu since the invasion began, but officials said Moscow seemed reluctant to talk.
Austin stressed the importance of keeping open lines of communication, said John Kirb. The U.S. and Russia have set up an open hotline after the invasion – which Moscow calls a "special military operation" – to prevent miscalculations and escalation in the region.
The hotline for Military Unblocking (& # 8220; Red Phone & # 8221;) is an open telephone line based at the European Command headquarters and under the command of Air Force Todd Walters, who leads all US forces on the continent.
The Russian news agency TASS, citing the Russian Ministry of Defense, reported that the telephone call was made "at the initiative of the American side." "Topical issues of international security were discussed, including the situation in Ukraine," TASS quoted the ministry as saying.