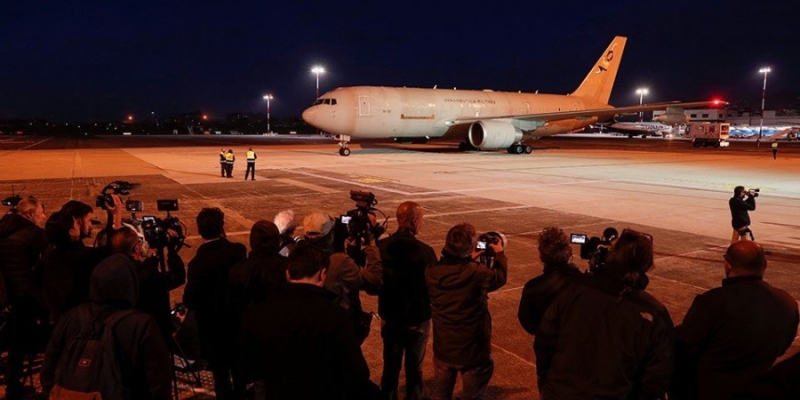 The White House tonight called on Sudan's warring parties to immediately declare a ceasefire and ensure that civilians are protected as the US works to extricate its citizens from that country.
White House National Security Adviser Jake Sullivan told reporters that American citizens have started arriving in Port Sudan and the US is providing facilities for them to continue their journey. But he clarified that there is no US plan to deploy a peacekeeping force in Sudan.
Sullivan repeated a statement made earlier by Secretary of State Anthony Blinken that the US would like to reopen its diplomatic mission in Sudan once it is safe to do so.
For now, thousands of Americans who are in Sudan –many have dual citizenship– they are urged to find safe shelter.
"We would like to help as many Americans as we can," Sullivan said, noting that the best way is for the U.S. to help evacuate them by land.
Ways are being sought to remove Americans from Sudan. , says Blinken
The United States is considering how it can help American citizens who wish to leave Sudan amid the ongoing conflict, while at the same time trying to find ways to continue its diplomatic presence in this country, said the Minister of Foreign Affairs, Anthony Blinken.
Speaking to reporters at the State Department, Blinken declined to say how many American citizens are in Sudan. But he said that "dozens" have expressed a desire to leave. Many of them have dual citizenship.
"We remain in close contact with American citizens and individuals connected to the US government to provide assistance and facilitate the departure of those who wish to be transported to safe areas. In addition, we are considering our options to resume our diplomatic presence in Sudan, including in Port Sudan. said the US Secretary, noting that conditions on the ground are "very difficult".
On Saturday the US removed all its diplomatic personnel from the embassy in Khartoum and suspended its operations.
>
Earlier today, White House spokesman John Kirby said several dozen Americans were following a United Nations convoy bound for Port Sudan and that the US military was monitoring it with drones.
Blinken said some of these convoys in which foreigners attempted to leave Sudan were targeted by "bandits". He did not specify whether American citizens also participated in them.
He also expressed his concern about the involvement of the Russian mercenary organization Wagner in Sudan, without however giving more details.
The US, he added, is pressuring Sudan's military leadership to maintain the ceasefire and US officials are in direct contact with General Abdel Fattah al-Burhan, the head of the ruling Military Council, and his deputy in that Council, the leader of paramilitary organization RSF, General Mohamed Hamdan Daglo or Hemeti.
Flights continue to remove EU citizens from Sudan, Borrell said
More than 1,000 European Union citizens have so far been removed from Sudan, EU High Representative for Foreign Affairs Josep Borrell told a press conference after the Foreign Affairs Council meeting in Luxembourg.
In particular, Mr. Borrell noted that 11 EU citizen removal flights took place on Sunday, and that 20 more such flights were expected to take place on Monday. Among those removed was the EU ambassador who was transferred to Djibouti, while the embassy's second in command remained in Sudan, although he is no longer in Khartoum.
Mr Borrell noted that over 1000 to 1200 EU citizens have been removed from Sudan and that around 400 people are still expected to be transferred from the country. Responding to a related question, he noted that although he would like more coordination between the member states, the results of the cooperation that existed showed how necessary it is.
As he said, during the weekend until now, the EU continues diplomatic contacts.
He particularly noted that we must not forget the people of Sudan, and stressed that the hostilities must stop.
Regarding the situation in Ukraine, Mr. Borel disagreed with interpretations that both Ukraine and Russia want to stop the war but cannot, he underlined that it is Russia that does not want to stop the war and that Ukraine is forced to continue to defend, and that the EU wants peace as the Ukrainians primarily want it.
Referring to ideas and statements from third countries such as China and Brazil for peace in Ukraine, he pointed out that in order to be credible these countries should also talk to Kiev itself. He emphasized that the attacker cannot be treated the same as the defender.
In relation to the ongoing debate on supporting Ukraine by sending ammunition, and in particular trying to simplify ammunition procurement procedures so that aid can be sent more quickly, Mr Borrell responded to criticism of the delays by saying that some things can proceed even before the last word enters the legal texts.
He also added that soon the Commissioner for the Internal Market, Thierry Breton, will present the Commission's proposals for strengthening the production capabilities of the European defense industry.
He also emphasized that the Foreign Ministers also discussed the preparations being made for a new package sanctions against Russia, but also to effectively prevent the circumvention of sanctions.
On the agenda, he continued, was also the situation in Moldova, and the creation of a regime of sanctions against those who attempt to destabilize the country, while the Ministers of Foreign Affairs had a meeting with the Minister of Foreign Affairs of Georgia with whom they discussed the European perspective of the country.
Mr. Borrell also referred to the discussion that the 27 Ministers of Foreign Affairs had on relations with China, while he received several questions about the recent statements of a Chinese diplomat about the sovereignty of countries of the former Soviet Union. As he pointed out, the matter has been clarified and it has been clarified that China does not dispute the sovereignty of these countries.
Read also: 23 Cypriots trapped in their homes in Sudan
Source: APE- MEB-Reuters