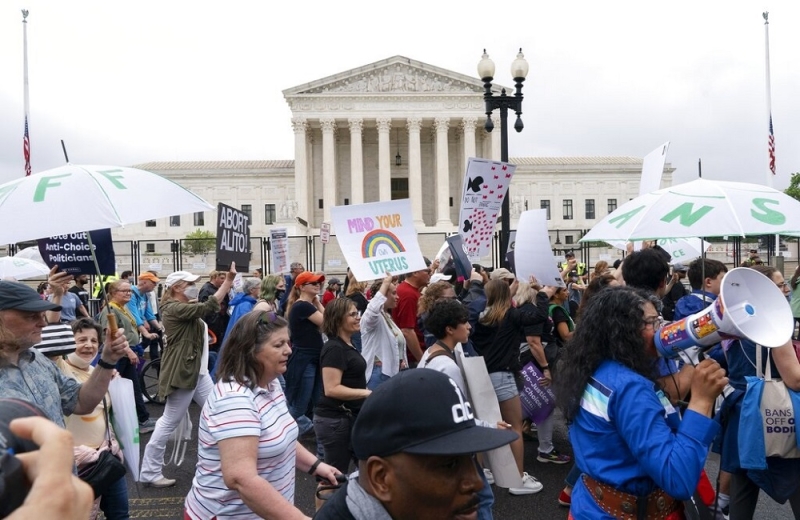 "Hands off our bodies!": Tens of thousands of people are protesting in the United States to defend the right to abortion, threatened by the Supreme Court that seems ready to step back half a century after the historic decision to protect abortion./p>
About 450 demonstrations took place today across the country, the largest of which were in Washington, New York, Chicago, Austin, Los Angeles.
Protesters held pink placards reading "Hands off our bodies!" shouting "Supreme Court wants to kill women", "Abortion in Court", while large banners read "Our bodies, our abortions".
In Washington, the march was about to end in front of the seat of the Supreme Court. In New York, Democratic senators Chuck Sumer and Kirsten Gilbrand, as well as Attorney General Leticia James and Mayor Eric Adams, led the march.
Although supported by the majority of the population, according to recent polls, the right to abortion is a divisive issue following the historic Roe v. Wade of 1973, which protects the right of American women to terminate their pregnancies.
The Supreme Court, six of whose nine judges are from conservative to extreme conservative thanks to the Trump-era fatal appointments that upset the balance, is preparing to bolster the right to abortion in June, Politico revealed in early May. which, if passed, would give U.S. states the right to ban abortion.
termination of pregnancy. These deadlines are already limited to 23 US states and 20 conservative states have already pledged to ban abortion, some even in the event of incest or rape.
This will force women to travel long distances. Thousands of miles to abort.
Congressional Democrats have vowed to protect the right to abortion in the states where they have a majority.
The House of Representatives voted in the fall a law that guarantees access to abortion nationwide, but the bill was passed in the Senate where Democrats do not have the required majority.
Source: RES – EIA