Analysts fear it could be the next in a domino crash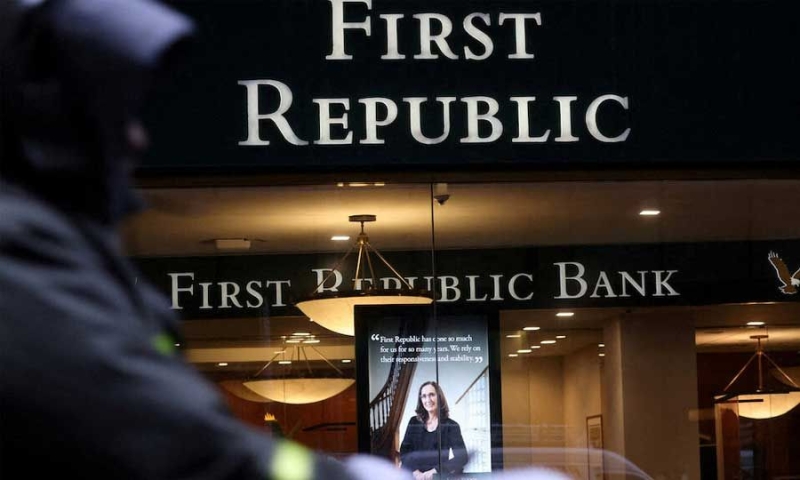 REUTERS/Mike Segar/File Photo
US bank First Republic is now at the center of concern as fears are expressed that it may be the next domino of collapses in the US.
The bank's stock was down 20% at the midpoint of today's session on Wall Street. Yesterday it recorded losses of 21% while since March 8 it has lost 73% of its value. The plunge was even greater, reaching 36%, after Bloomberg reported that First Republic was considering "strategic options" for its future, including a possible sale.
Profile its affluent clientele, however, turned into a weakness, following the bankruptcies of Silicon Valley Bank, Signature Bank and Silfergate
The stock rebounded slightly after the Wall Street Journal cited reports that other major banks, including JPMorgan Chase and Morgan Stanley, are trying to help First Republic and are discussing various alternatives, including raising its equity capital. And then it started taking profits after CNBC reported that banks were ready to lend it $20 billion.
Founded in 1985, First Republic is headquartered in San Francisco and is the 14th largest bank in the US. It provides private banking services for individuals and companies and manages assets, having offices in California as well as on the East Coast (New York, Massachusetts, Connecticut, Florida) as well as in the States of Oregon, Washington and Wyoming.
Until as of 2021 it was run solely by its founder, Jim Herbert, who has now ceded his position to general manager Mike Roeffler but remained chairman of the board. It recorded remarkable growth, year after year: at the end of 2010 its assets amounted to 22 billion dollars but at the end of 2022 it will reach 212 billion dollars.
Its affluent client profile, however, turned into a weakness following the bankruptcies of Silicon Valley Bank, Signature Bank and Silfergate, banks that had invested in specific financial activities – SVB in technology, the other two in cryptocurrencies.
According to the rating agency S&P Global Ratings, 68% of deposits at First Republic are in accounts that exceed $250,000, that is, the amount guaranteed by the Authorities. Although its customers come from a variety of sectors, some analysts fear that many will prefer to move their money to larger banks that are not at risk of bankruptcy, precisely because they are so important that regulators will not allow them to collapse.
The bank said as of Sunday that it had "enhanced" its liquidity and had $70 billion on hand, thanks to facilities offered by the Fed and JPMorgan Chase. However, this amount is considered insufficient by rating agencies S&P Global Ratings and Fitch, which on Wednesday downgraded its credit rating by dropping it into the "junk" category.
"We believe that the risk of deposit leakage is high for First Republic Bank, despite measures taken by banking regulators and the fact that the bank is increasing its lending capacity to limit the risk associated with last week's bankruptcies," S&P said.