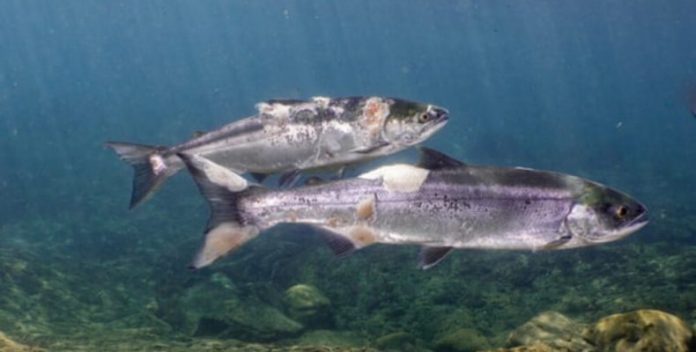 Salmon in the Columbia River were almost "cooked to death" when, due to the unprecedented heat wave that swept the northwestern US states, the water temperature rose dangerously, according to an environmental organization that recorded this disturbing spectacle.
As Columbia River chief Brett Vadenhovel explains, the salmon were traveling upstream from the ocean to the river to return to their ancestral breeding grounds, when they suddenly changed course.
According to him, the herd turned sharply on the Little White Salmon River, a tributary of the Columbia, in an attempt to escape from the hot river area as if from a "burning building".
On the day the video was filmed, the temperature of the river water had jumped to 21 degrees Celsius (when the relevant legislation does not provide for mercury above 20 degrees), a temperature that is lethal to these retrograde fish in case of prolonged exposure.
Vadenhovel compared the situation experienced by the fish to a man trying to run a marathon in temperatures above 38 degrees.
"The difference is that for salmon this is not a pastime. They have no choice. They will either succeed or they will die, "he added.
The salmon in the video will not be able to reproduce in the river and are expected to succumb to disease and heat-induced stress. According to Vadenhovel, it is too early to draw any conclusions about how many salmon have died or will become extinct due to the extremely hot waters.
This dramatic video is another testament to the tragic fauna and flora of the recent heatwave that killed hundreds of people in Canada and the northwestern United States.
source: perierga.gr