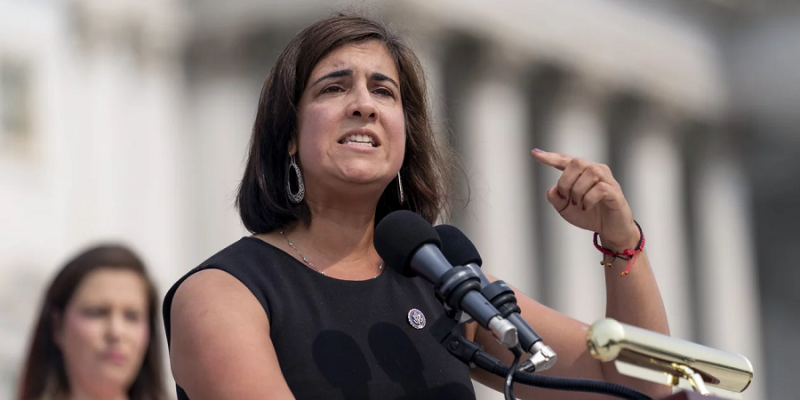 An honorary distinction was awarded to expatriate member of parliament Nicole Malliotakis by the members of Pancypriot Florida in collaboration with the Global Coordination Committee of the Cyprus Struggle (PSEKA). The Republican congresswoman from New York received the "Kyrenia Award" as a sign of recognition for the dedication he has shown in the struggle of the Cypriot people for freedom and justice. The award is named after the city of Kyrenia, paying tribute to the more than 200,000 Greek Cypriots who were uprooted by the Turkish invasion in July 1974.
"As the daughter of a Greek immigrant, it was a huge honor to receive the "Kyrenia Award" by members of the Greek Cypriot community. In Congress, I joined my Greek colleagues to draw attention to Turkey's illegal invasion and occupation of Cyprus and the thousands of military overflights they have conducted over Greece,'' said Ms. Malliotaki, accepting the award.
Continuing, he took aim at Turkey's destabilizing and aggressive behavior, saying Congress should not grant Ankara's request to upgrade and acquire new F-16s. As he noted, "Congress should ban the sale of US fighter jets and military equipment to Turkey. It is up to NATO and my colleagues to understand the real threat that the Erdogan regime poses to our allies, and I am confident that if the Biden administration tries to move forward with any sale, Congress will come together bipartisanly and in both Houses to prevent it».
The President of the Republic of Cyprus, Nikos Anastasiadis, referred to the expatriate MP's offer, saying that MP Nicole Malliotaki works tirelessly to strengthen the cooperation between Greece, Cyprus and the United States and to place the Cypriot higher on the government's foreign policy agenda. of the USA. In particular, he repeatedly brings to the fore the Turkish occupation of Cyprus and human rights violations in the Parliament and makes constant references to the intensifying Turkish aggression and threats in the Eastern Mediterranean.
Finally, the president of PSEKA, Philip Christopher, praised Mrs. Malliotaki's offer. As he characteristically mentioned, "Nicole, a fierce fighter for Cyprus, Greece and Hellenism, is a true defender of human rights and dedicated to Greek values ​​and ideals. In particular, we applaud her monumental efforts to bring members of Congress to collective action on behalf of the Cypriot people's struggle for freedom and justice.