The Minister of Transport spoke about something unprecedented at the 19th annual conference of the Economist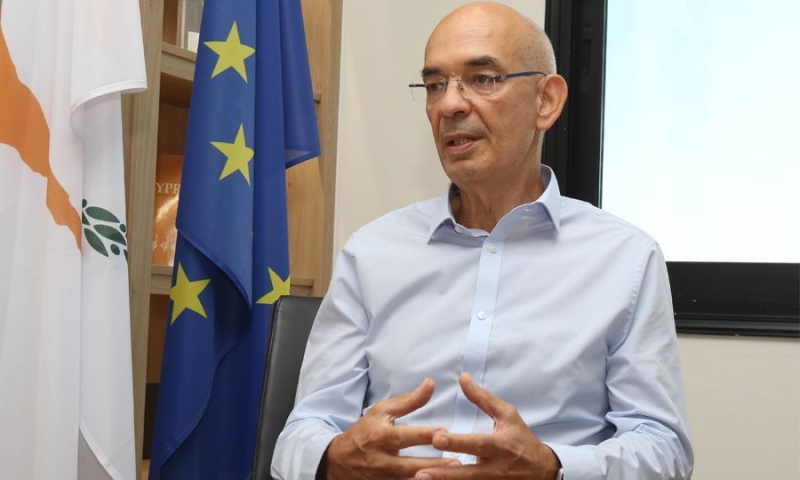 There is "huge traffic" to Cyprus from military sources in Europe aimed at providing rescue services, Transport, Communications and Works Minister Alexis Vafeadis said on Wednesday at the Economist's 19th annual conference in Nicosia, noting that this it is something unprecedented.
The Minister, who presented the priorities of the Cypriot government in terms of strengthening regional cooperation through major infrastructure projects, noted the connection between the geographical position of Cyprus and the importance of improving of its infrastructure and services for commercial, energy and humanitarian purposes.
He referred to the environment in which Cyprus operates, making special mention of the political environment, with Cyprus being a member state of the EU, as well as the geography, noting that it is an island on the periphery of Europe, in the eastern Mediterranean, and in the center of the region and extends to Saudi Arabia and the UAE.
He also referred to the importance the EU attaches to the environment and the Green Deal. He said geopolitics was another factor and how the war in Ukraine had affected supply chains, while also referring to the crisis in Israel and the need for humanitarian aid.
The Green Deal was a "major issue", he said. , adding that they expect it to affect everything to do with the delivery of goods, as distance will equal energy and be directly linked to an energy budget.
He also said that because of geopolitics, "we saw how important military mobility is and how we can improve the infrastructure to allow military mobility to work as effectively as possible."
Regarding alternative transport routes, he said that Cyprus is aware of how the EU emphasizes the need for new land routes and how Central Asia should be integrated into continental Europe, but that it should also be recognized that, whatever routes exist to meet the delivery of trade and the supply of goods, it will never replace sea routes. He said that Cyprus is on an important route from Central Asia through the Suez Canal to Europe, "so we aim to create a better business system, which will allow trade to flow at a cheaper cost across Europe".
The Minister said that the Government is working to upgrade the port in Vasiliko, noting that it is the second terminal of the Limassol port and that it is intended to be an industrial port that will also function as an energy hub and is going to be an addition to the other two ports of democracy. "We will invest a significant amount of money to improve the port in Vasiliko, turn it into an industrial hub, an industrial port and try to upgrade the level of service in the area," he said.
He also said that the new floating storage and regasification unit (FSRU) and the connections to Israel and Crete when developed, are also major infrastructure projects aimed at improving regional cooperation.
Mr Vafeadis said that Nicosia had prioritized completing its part of the trans-European transport network program and was working hard to deliver the new Nicosia ring road, for 2030 and by 2050 "we will be ready with our other road networks, the motorways Limassol – Saitta, Astromeritis and Paphos – Polis".
Regarding the Green Agreement, he said that Cyprus is moving forward with the "cold ironing" that is part of this agreement, and part of the upgrading of Cyprus' services. He said that Cyprus will be able to supply more ships in ports with electricity in line with EU requirements and will work towards an approach to its national resources, to natural gas fields off the coast of Cyprus, as fuel and as a commodity. "We will invest a lot in this infrastructure," he said.
The minister said Nicosia is also working with the EU on infrastructure, trying to use technology to improve the rate at which goods can move. pass through Cyprus.
Huge mobility due to crisis in Israel
"Most importantly," he said, "we understand that Cyprus' key geographic location is important in providing a safe haven for any kind of events that occur in the region," and he referred to President Nikos Christodoulides' proposal to create a humanitarian liaison in case that will be needed.
"This proves that we need to improve our infrastructure, not only in the ports, to facilitate more ships that will be needed for this, but we also need to improve the services and infrastructure at the airports" , he said. Mr Vafeadis said there had been a "huge movement" to Cyprus from military sources in Europe aiming to provide rescue services, noting that this was unprecedented.
"We have witnessed how this it has expanded our ability as a country to provide good services," he said, adding that the Government will, in the near future, work on this to be ready, if necessary, for Cyprus to be a provider of even better services at its ports and airports for military mobility and presence for humanitarian aid and search and rescue purposes.