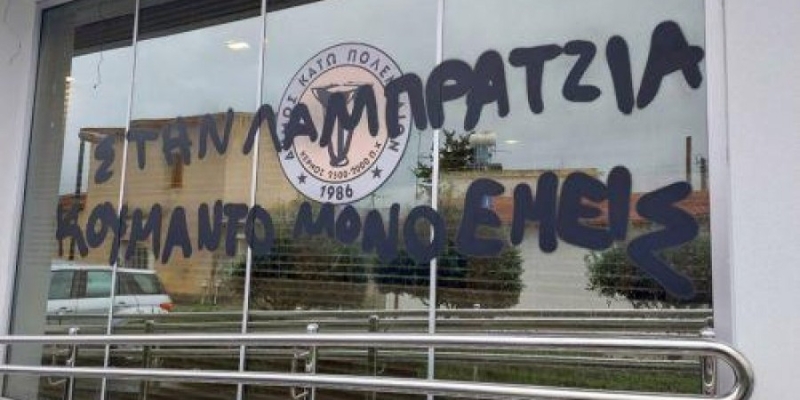 < p> The Municipality of Kato Polemidion filed a complaint with the Police, after slogans written in paint at the Town Hall by young people, on the issue of lamprey, Mayor Nikos Anastasiou told KYPE.
Slogans that read "In Lambratzia only we command" and "Either you will be with us or against us", were spotted in the morning and according to Mr. Anastasiou they must have been written during the weekend, on the occasion of today's meeting at the City Hall, with the participation of the Police and the church committees, for the issue of firecrackers preparing for Easter.
Our concern, said the Mayor, is that no one is in danger, either from firecrackers or firecrackers, and we must ensure that everyone returns from the churches, in their homes, healthy and able-bodied.
"Young people seem to have been informed about today's meeting and wanted to warn us by writing slogans on the town hall", he said and added that "it is a serious issue. of juvenile delinquency that we must see".
The case was reported to the Police and tests are expected to be carried out, including in closed surveillance circuits in the area, in an attempt to identify the perpetrators, Nikos Anastasiou concluded in his statement.
Read also: Cypriot shouted at Christodoulidis to give him money for bouzoukis! (VIDEO)