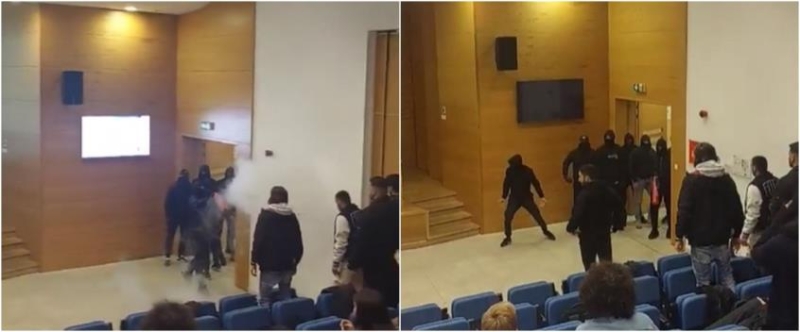 Attendees of the Accept – LGBTI Cyprus event, which was held at the TEPAK Student Development Center, were subjected to an unprecedented attack by hooded men, when hooded men entered the hall and turned angrily on them. In fact, as you will see in the video below, the masked men took the fire extinguisher and abused those present, while one of them punched a citizen. fierce homophobic attack by masked men during a speech at the CUT Student Development Center".
As they report, "the masked thugs broke into the hall during the speech, took the fire extinguisher and started spraying the people and the speakers. In addition, they beat a person and threw objects. At the same time, they shouted various homophobic hate slogans and made gestures, while on their way out they broke and destroyed everything in their path. The attack caused panic among those present, both for its violence and the number of masked men!".
The organization, "expresses its disgust at the incident and calls on the Cyprus Police and the Commissioner for Administration and Protection of Human Rights-Cyprus Ombudsman to put an end to what we have been experiencing lately. Society's tacit acceptance and indifference to homophobic hate speech observed by public and non-public figures has disheartened every brainless person, who now feels they can do whatever they want without repercussions".
Characteristically, they add, "to mention that, candidates for the presidency based their pre-election campaign against us, political figures mock us incessantly on their Facebook profile, while public homophobic hate comments in every LGBTQI news are now indiscriminate. And all this happens without consequences even though there are laws! Accept and its allies want to send the following message as clearly as possible to all those who try to scare us: We are not afraid of you and we will not be silent! Such brazen acts of hatred simply prove that homophobia reigns well on our island and that it should let's do more, with more boldness and stubbornness!".
Finally, it is stated, "to note that we have other videos in our possession, while witnesses of the incident may be able to help identify the masked men" .