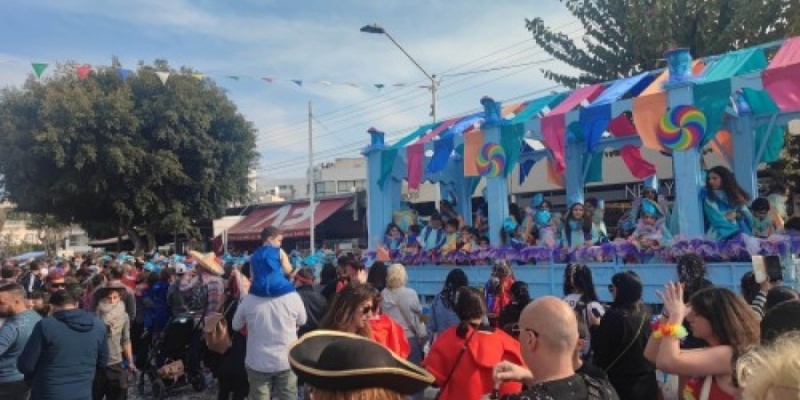 Spectacular, full of color, pulse, vitality and a lot of madness was the great carnival parade that culminated the events of this year's Limassol Carnival. Tens of thousands of people of all ages flooded the main streets of Limassol to watch the parade and have fun at a carnival pace.
A riot of colours, imaginative costumes inspired by a huge range of themes, from fairy tales, current affairs, political satire, leather masks and entries for charity included the great carnival parade.
See also: In rhythm Carnival in Limassol – Pictures from the parade
With a duration of over five hours, it was the largest in participation in recent years, since – according to the mayor of Limassol – more than thirty thousand carnival-goers in 109 groups took part. It is estimated that more than 120,000 people attended the parade, while according to the police, more than 35,000 cars came to Limassol today from other cities.
«What happened this year with the carnival parade is unique. People participated, had fun, forgot their problems for a few hours and enjoyed beautiful moments, after two years of abstinence due to the pandemic. "This year was really the best parade of recent years," said the mayor of the city, Nikos Nicolaidis.The good weather was an ally of the carnivalists, which allowed locals and visitors to flood the city and enjoy the parade that took place on Makariou Avenue.
Fireworks and paper wars made up the scene of the ceremony. opening of the parade by the mayor of Limassol, who then awarded honorary plaques to veteran carnivalists.
Leading the entertainment was the King of Flame, who this year was embodied by Dimitris Giannakou, with his impressive chariot, his entourage and of course the Royal family. They were joined by the municipal councilors, the cheerleaders of the Cypriot Drivers' Association and the municipality's philharmonic band, while the groups of singers preceded them with their carnival tunes.
Large groups of carnivalesques in colorful costumes danced with unbridled merriment between the impressive floats of the parade. Both the floats and the carnival costumes were inspired by everyday themes, fairy tales and popular series, but also current affairs, political, economic and sports. The satirical floats had their fair share, especially those satirizing political leaders, the police, foul play in football and the lack of parking spaces in the center of Limassol.
The ten-day Limassol Carnival draws the curtain tonight, with the carnival dance that will take place at 9 pm in the Old Port. During the feast there will be a mud mask competition – smart mask and the three best costumes will be awarded.
View this post on Instagram
Source: KYPE