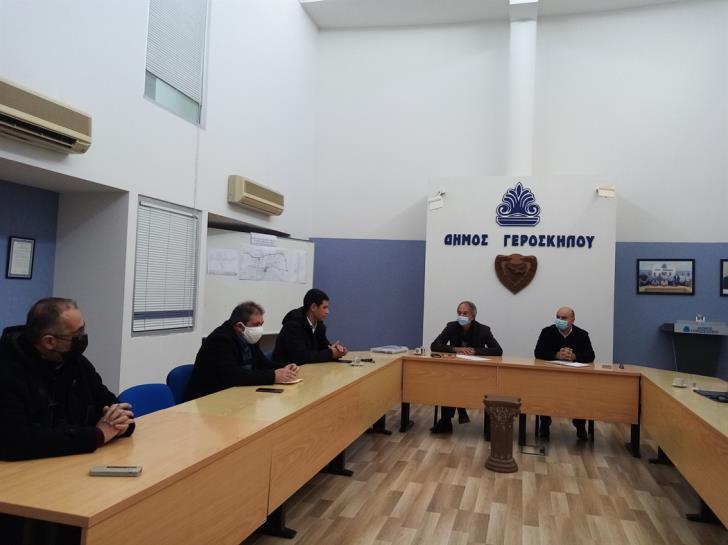 Dora Christodoulou
AKEL Delegation, consisting of the Secretary of the AKEL General Committee Marios Georgiou, the Organizing Secretary Haris Haris, the Member of Parliament Valentinos Fakontis, the Municipal Councilor of AKEL Nikos Kyriakos Andreos D , met with the Mayor of the Municipality of Geroskipou Kyriakos Hadjivasilis and the Municipal Secretary Costas Anastasiadis.
During the meeting, views were exchanged on the developments for the reform of Local Government where it was common to find that the rescue of the Municipality of Geroskipou goes through the creation of the Municipality of East Paphos based in Geroskipou and is of primary importance for progress and evolution of Geroskipou.
The AKEL delegation also conveyed various requests that arose or problems that were identified after on-site visits or contacts with public benefit institutions operating in Geroskipou, but also contacts that were made with sports clubs of Geroskipou. Through the discussion and exchange of views and the information that followed, it was found that the support of the Local Authority to the public benefit institutions that perform significant social work, is necessary and of primary importance.
The Local Authority expressed the will to provide all possible assistance to both public benefit institutions and sports clubs, always within the capabilities of the Municipality and its responsibilities. Views and suggestions were also exchanged for raising funds from European Programs that will mainly concern actions for the healthy engagement of the youth and information was made about the existing utilization of European Programs by the Municipality.
During the meeting, the AKEL delegation was informed about the progress of projects already being carried out in Geroskipou as well as about what is planned to start. Specifically, the Mayor informed about the progress of the construction of the Medical Center and the delay that has occurred so far in relation to its completion and delivery.
Information was also provided for the construction of the junction of the northern bypass, for the actions that are being launched for the improvement of the road network and the repair of sidewalks and repair of damages caused due to the defects from the construction works of the sewerage system, with full utilization of the amount. more than a million after the completion of the legal action against the Sewerage Council and the decision of the Paphos District Court.