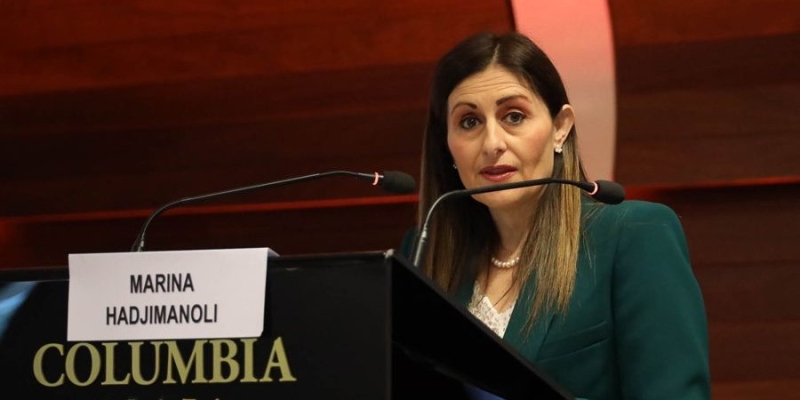 Cypriot shipping must be competitive, strong, resilient to crises and anticipate challenges and new trends, Deputy Minister of Shipping, Marina Hatzimanoli, said on Thursday, adding that the government has an ambitious vision for our shipping.
In her greeting at the 1st "CSN Cyprus Marine Insurance Conference" organized, in Limassol, by Cyprus Shipping News, on the subject of economic and legal challenges in shipping, Marina Hatzimanoli said that such events strengthen the position of Cyprus as a modern, efficient and pioneering shipping center, giving the opportunity for interconnection of the local and international community and informing professionals about the latest developments in the shipping industry.
Shipping, he continued, represents an invaluable capital for Cyprus with significant political and economic advantages, and he noted that "our vision is to further develop our shipping complex so that all companies belonging to the shipping sector in Cyprus can enjoy a full range of quality services, both from the public and private sectors.
At the same time, she indicated that, despite the illegal Turkish embargo, the Cypriot Registry has developed and is today considered important, with a strong voice and role in the international and European shipping scene.
The Deputy Minister added that, over 200 shipping companies companies are currently based in Cyprus, covering a wide range of services, while in the last decade there has been a significant increase in the number of companies registered under the Special Tax System governing Cypriot shipping, from 95 to 350.
Cyprus, he continued, has made significant progress in simplifying procedures, reducing red tape and a "paperless" shipping administration, in an effort to improve its environmental footprint but also to offer a more flexible, efficient customer-centric service, which will continue to increase the attractiveness of the Cyprus Registry and related services.
He also reminded that the Deputy Ministry is in the process of creating a one-stop service framework, through its digital transformation, while the implementation of the Limited Liability Shipping Company (N.E.P.E.) Law is expected to improve the competitiveness of the Cypriot flag in international shipping, but also to simplify the procedures and operational status of Cypriot shipping companies, with ships under the Cypriot flag.
Referring to the challenges faced by Cypriot shipping, after the pandemic, the Russian invasion of Ukraine and the sanctions imposed by the EU, Mrs. Hatzimanoli said that Cypriot shipping proved to be resilient, while an important role was played by cooperation and common public and private sector efforts.
In relation to the green transition and the need for decarbonisation of shipping, he indicated that Cyprus supports the shipping industry towards this goal, through green tax incentives for ship owners and ship operators , encouraging Cypriot-flagged ships to use alternative fuels, such as biofuels and hydrogen.
"We believe that the right way is a holistic approach and the transformation of challenges into opportunities", he continued, and emphasized that "we will continue to do our best to support and strengthen the efforts and goals of our resilient shipping industry." ?.
We expect, he added, that the steps taken to strengthen competitiveness, the quality of maritime education and encourage innovation, will contribute to our vision of developing our maritime complex, both in size and in a range of quality activities.
"Cypriot shipping must be competitive, strong, resistant to crisis and proactive in challenges and new trends. We have an ambitious vision and clear goals for Cyprus Shipping and we are determined to further strengthen Cyprus's position in global shipping, concluded Marina Hatzimanoli in her greeting.
Source: CYPE
&nbsp ?