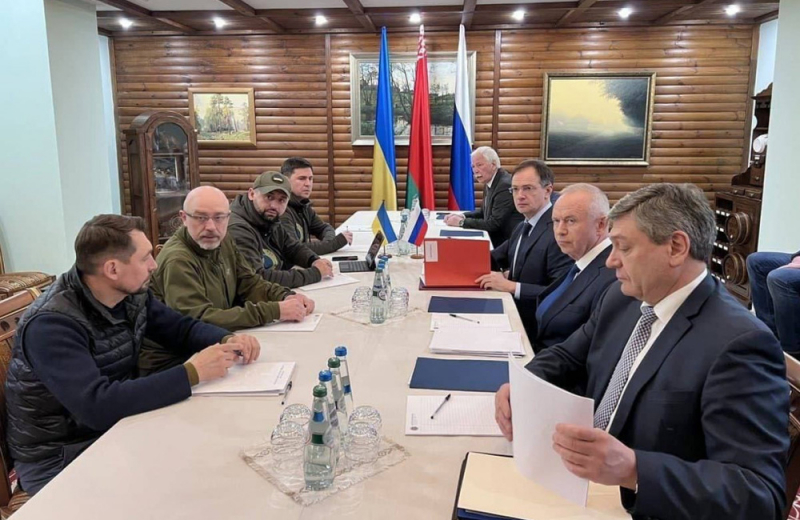 The big question on the planet is whether there can be a diplomatic route to peace. So far, the three rounds of talks between Ukraine and Russia have not yielded much. They opened the debate between Kyiv and Moscow, but the only decisions were to create humanitarian corridors for civilians, which in no way has been 100% observed.
Statements that give hope
In recent hours, statements by officials on both sides indicate that there are timid steps forward in the negotiations to find a solution and end the war.
On the one hand, Ukraine is open to discussing Moscow's request for neutrality, especially after the stance of NATO and the decision not to proceed with the country's accession process and the refusal to have a no-fly zone, while the Russian side states that it has no intention to overthrow the Kiev government. >
At this point, let us emphasize that Kyiv has for the past two days been in a positive position in relation to a direct meeting between Volodymyr Zelensky and Vladimir Putin.
"Ready for a diplomatic solution"
Ihor Zovkva, the Ukrainian president's deputy chief of staff, said today that if security guarantees were given to Ukraine, it would discuss the issue of neutrality, although it would not hand over any measures from its territories./p>
"We are definitely ready for a diplomatic solution," he told Bloomberg Television. "Guarantees should come from Ukraine's neighbors," he said, without elaborating. "Russia is not trying to overthrow the Ukrainian government." Russia will achieve its goal of securing a neutral status in Ukraine, said Russian Foreign Ministry spokeswoman Maria Zakharova.
She stressed that it would be better if Russia's goals in Ukraine were achieved through dialogue and spoke of "some progress" in the talks.
According to the representative of the Russian Foreign Ministry, Moscow's goals do not include Zakharova claims US responsibility for biological programs in Ukraine.
Russia claims to have seen documents supporting US claims biological weapons near the Ukrainian-Russian border.
A Russian Foreign Ministry spokeswoman is claiming the US has been carrying out biological programmes in Ukraine.

She claims Russia has seen documents backing up their claim that the US are harbouring components of biological weapons close to the Ukraine-Russia border. pic.twitter.com/mShzuyzUhk

— Sky News (@SkyNews) March 9, 2022
Maria Zakharova stressed that "the military operation ( Russia's invasion of Ukraine is "strictly in line with the plan" and reiterated that "the Russian army is not targeting the civilian population".
The call Zelensky to Putin
The Ukrainian president may constantly denounce Russia's attacks from his social media accounts and statements to the international media, but he has also stopped sending messages to have a dialogue with his Russian counterpart.
< He repeated the same in his interview with ABC yesterday. Of course, Zelensky stressed that he was not ready to capitulate to the Russian side, but left tips for NATO's stance.
"First of all, I'm ready for dialogue, but we're not ready to give up," Zelensky told the American television channel, when asked if Ukraine was ready to comply with Russia 's ceasefire demands. : to change the Constitution and deny NATO membership, recognize Crimea as Russian and recognize the independence of Lugansk and Donetsk.
"Because it does not concern me, it is for the people who elected me. As far as NATO is concerned, I lost interest in this issue as we realized that NATO was not ready to accept Ukraine. "The alliance fears contradictory things and confrontation with the Russian Federation," he said. , a request that the alliance has repeatedly rejected.
"We will not fall to our knees to please"
He also pointed out that Ukraine does not want to be a country that "will fall to its knees and beg , and we are not going to become such a country, I do not want to be such a president ".
"I am talking about security guarantees. "I think we can discuss and find a compromise on the points of the temporarily occupied territories and the unrecognized republics, which are not recognized by anyone but the Russian Federation," he added.
According to Volodymyr Zelensky The key question is how people will live in these lands, who want to be part of Ukraine. "What needs to be done is for Putin to start talking, to start a dialogue, instead of living in isolation. "I think he is there," the Ukrainian president said.
Lavrov to Turkey for meeting with Kuleba Foreign Minister Sergei Lavrov is expected to hold talks with his Ukrainian counterpart Dmitry Kuleba on Thursday, Russian news agencies reported.
Turkish Foreign Minister Mevlüt Çavuşo had announced the four-on-four agreement between the Foreign Ministers of Ukraine and Russia.
This meeting is another positive step, but no one can say for sure that it can have a tangible result.