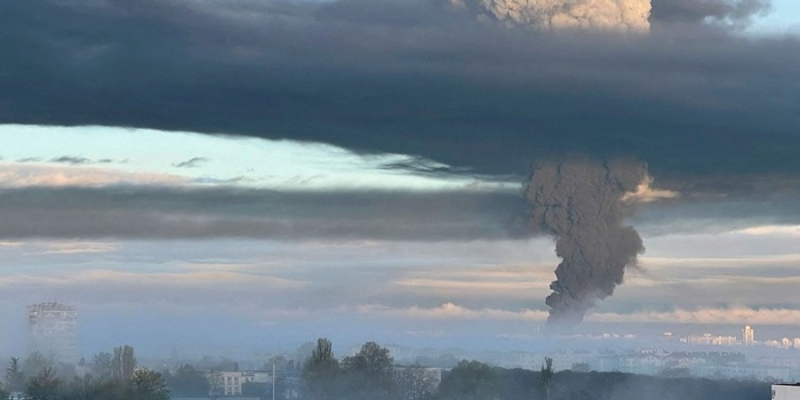 Fuel tank has caught fire in Sevastopol, an important port of the Crimean peninsula, possibly due to a Ukrainian attack with a remote-controlled drone, the Moscow-appointed governor of the region, Mikhail Razvozaev, announced in the early hours of today via Telegram.
"A fuel tank is on fire (…) According to preliminary reports, the flames may be due to an attack" by UAV, Mr. Razvozaev said, according to Russian state news agency TASS. He added that the fire has an area of ​​1,000 square meters.
The Russian occupational forces are requesting additional help to extinguish the raging fire in the occupied city of Sevastopol, including aerial firefighting. #Sevastopol #Crimea #Ukrainepic.twitter.com/ameWdbZaPe

— (((Tendar))) (@Tendar) April 29, 2023
However, he did not provide information on casualties.
Kiev has repeatedly expressed its intention to retake the Crimean peninsula, which Russia annexed in 2014, which the international community does not recognize.
A Ukrainian "Kamikaze" Drone Attack has reportedly taken place against an Oil Refinery and Depot used by the Russian Military at Kozacha Bay near the City of Sevastopol in Russian-Occupied Crimea. pic.twitter.com/quHcIbanQz

— OSINTdefender (@sentdefender) April 29, 2023
Ukraine's military and special services have repeatedly launched attacks on the peninsula since the Russian military invaded Ukrainian territory more than 14 months ago.
Read also: Putin: He signed a decree for life imprisonment for those guilty of high treason
Source: APE-MPE-dpa