The company's educational division, Wargaming Forge Cyprus, kicks off the new year with two new programs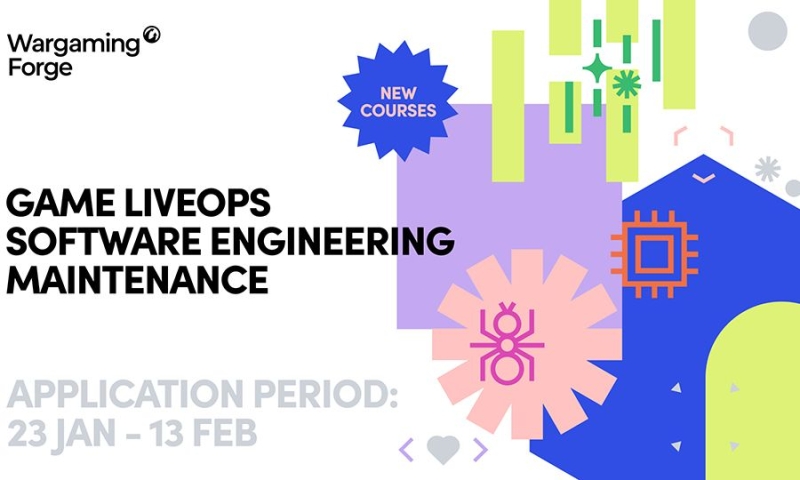 Following the success of its training programs last year, Wargaming Forge is pleased to announce the launch of the first training programs of the year, which will involve the Wargaming offices in Cyprus, Lithuania, Serbia and the Czech Republic. With a primary mission to train the employees of the future of the video game industry, Wargaming Forge's first programs for 2023 will focus on two different specialties: Software Engineering and Game LiveOps. Both programs will be conducted online, and participants will have the opportunity to gain essential skills to launch their dream career in video game development. Applications are already open, so don't waste time and register today!
"2022 was an important year for us, as we launched new programs, while a portion of the trainees who participated in them have either joined the Wargaming workforce or are working in our company as part of an internship, with the prospect of permanent employment," said Anna Ivanova, Wargaming Forge Program Manager. "Our goal for 2023 is to build on this success, and these two programs are just the beginning!"
Both programs will have different durations. Specifically, the Game LiveOps will last 2 months, while the Software Engineering program will last 3 months. In addition, the Game LiveOps program is open to everyone, even people with little or no experience, while Software Engineering is open to people who have at least some basic knowledge of programming languages, as well as general knowledge and skills in the specific field .
"The WG Forge program helped me start my career as a developer," said Pavlos Georgakoudis, Junior Software Engineer at Wargaming's Nicosia office. "He introduced me to the gaming industry, while at the same time providing me with invaluable experiences and skills that would be useful wherever and whenever I end up working. And as you would expect, game development is a very enjoyable occupation!"
Wargaming Forge programs teach professionals in the field, giving participants the opportunity to be trained by leading experts in the field. The participants who manage to complete the program will receive a relevant diploma, while the company will offer internship positions to those who manage to stand out during the program.
If you're ready to turn your passion into a career, you can find all the necessary information about courses and Wargaming Forge here: Homepage – Wargaming Forge
About Wargaming
< p>Wargaming is an award-winning online game development and publishing company based in Nicosia. Since it was founded in 1998, it has grown to over 3,000 employees and 16 offices around the world, including studios in Belgrade, Chicago, Prague, Shanghai, Tokyo and Vilnius. Millions of players participate in its games, among which the free-to-play World of Tanks, World of Warships and World of Tanks Blitz stand out.
About Wargaming Forge
Wargaming Forge gives talented individuals the opportunity to complete a unique internship at a leading game development company. The program has been very successful, with 90% of interns ending up working at Wargaming full-time. The program is currently available in Vilnius, Prague, Belgrade and Nicosia, while the company has plans to expand the program to other studios in the future. Participants have the opportunity to be trained by industry experts while gaining valuable experience that will allow them to further their careers in video game development.
Official website: wgforge.wargaming.com
https://youtu.be/e6jIrUT5bSM
https: //youtu.be/LLkxE9J3uGM