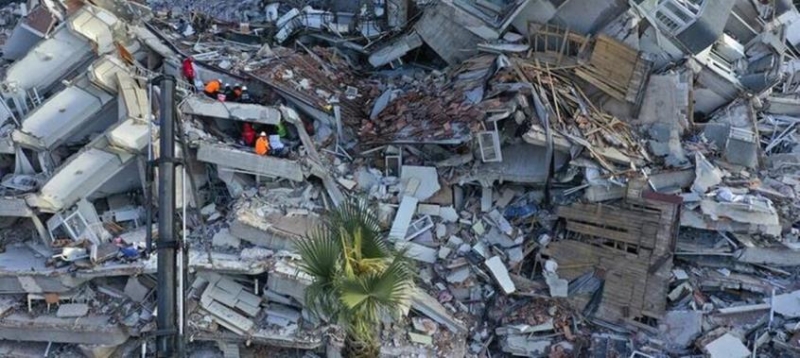 It only took fifteen seconds for the Isias Hotel to collapse, according to the rescued Murat Aktugrali who lost his 13-year-old son Aras under the rubble.< /p>
The press refers to the testimony of the rescued father to journalist Suleiman Arrat of Hurriyet. "The hotel almost split in half and collapsed on the spot." He went to Antiyaman, he said, to watch his son play volleyball. The children, he said, were staying in rooms with 3-4 beds to strengthen teamwork and team spirit.
"We parents got the rooms corresponding to the back of the hotel. After dinner, we sat in the lobby for a while, chatting, laughing and having fun. Then we went to the rooms. In the morning it was all over in 15-20 seconds. The hotel was almost split in half and collapsed on the spot. As it fell, our rooms suffered the least damage and we were able to get out. Me, other parents Pervin Aksoy Ipekci, Recep Kiliots and assistant principal Esra Özberkmen managed to escape from our school's group of 39 people. The other 35 people were under the rubble".
Aktugrali added that it was raining a lot outside, and they didn't know what to do. "We called our children, but there was no answer. Similar to me, my friend parent, Recep Kilic, had his daughter Havin buried under the rubble, and Pervin Akansoi Ipeksi, lost her daughter Serin under the rubble. We cried and tried to dig through the wreckage on our own. We rescued other guests staying at the hotel but could not reach our children. We are in deep sorrow".
The Turkish journalist writes that the mission of the Vocational College of Famagusta was 39 people, 25 children athletes, 9 parents, one teacher, two assistant directors and two coaches
Esra Özberkmen, went to Antiyaman and as a parent to to watch her daughter Sahil's matches and as assistant principal of the high school to accompany the mission. Speaking to the English channel Channel 4, he said that when he came out of the rubble he thought he would find them all outside.
"I tried to run to the door to get to the children, but I couldn't. Something hit my face and I fell, I think I passed out, because I don't remember the rest. When I came to, there was a lot of dust, it was such a strange dark environment. I tried to get up but I couldn't get up, there was something on me on my right side, there was a ceiling above me. They took my hands and lifted me up. We walked over the wreckage, when I saw it… I expected to find them all outside when I got out, inside, but it was too bad. There was no solid ground. Then we couldn't find our children, and my daughter was there. It was found yesterday morning, exactly 6 days after it fell all the way down into the basement. She was 11.5 years old, she was the youngest. The youngest was my daughter".
Journalist Alisian Pehlivan, who later traveled to Antiyaman and witnessed the rescue operations, described his experience. There is, he noted, nothing standing. "10,000 buildings and 10,000 families were destroyed." It is not just the Isias that was demolished, he said, but six other hotels in Antiyaman. In Isias, he added, the other volleyball team from Famagusta's Gianbulat High School would also stay, but because it was full, they went to another hotel.
Speaking on a Kipris Postasi web show, Pehlivan said that the parents and relatives who waited in the ruins for 4 days, until they started to locate the bodies, went through many and different emotional states. "There were screams from the apartments, I'm not usually a coward, but I was scared."
While he was in front of the wreckage and rescuers tried to locate members of the t/k mission, he said, people were coming up and asking them for help because they heard the voice of their children, their own, but there was no crew to help them. "We lived like this for five days," he said.
According to Cypris Postasi, more than 70 people lost their lives in the Isias hotel, 35 of them were members of the volleyball team. A large group of guides of 48 people stayed at the hotel for training purposes, of which 15 were rescued.