They grew up with a smartphone in hand, have entered the job market and have money on the side because they still live with their parents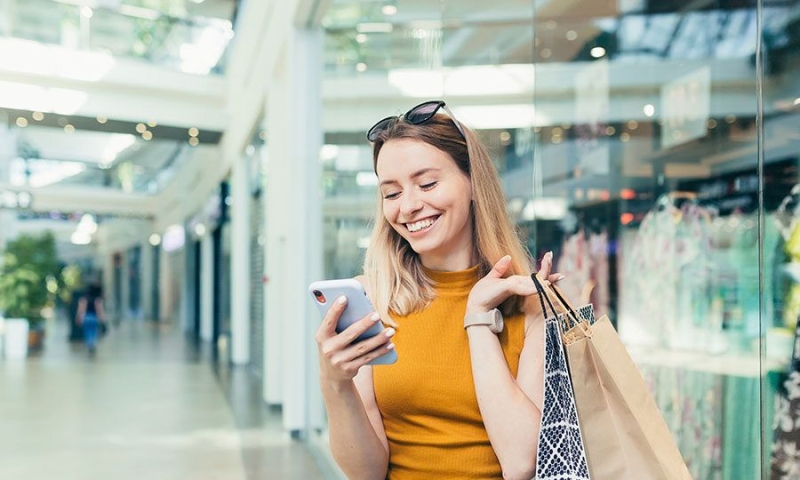 It is a so-called "micro-generation", which is between two generations and has been the focus of companies and marketers. These are the so-called "zillenials" (or in other words "zennials"), the age group of those born between 1990 and 2000.
As is obvious, the name comes from the combination of millennials and generation Z. The oldest will turn 33 this year, the youngest 23. In short, they are those born in the 90s. In the US it is estimated to be around 30 million.
What sets zillennials apart from their elders and younger peers is their purchasing power, according to a recent survey by financial website PYMNTS.
They love technology, they still live with their parents< /h3>
Based on the same survey, nearly a third of US millennials – about 11 million people – still live with their family. The real number may be higher: recent figures from the US Census Bureau show that 48% of Americans between the ages of 18 and 29 still live with their parents.
This means that a large percentage of young consumers they don't pay rent or have a loan. Most of them have entered the labor market (54% have a full-time job) and are very familiar with the internet.
According to the survey of approximately 4,000 American consumers, 85% of zillennials engage in social media platforms and video streaming, while 81% engage in music platforms and video games.
Zillennials have differences both with millennials as well as zoomers. They engage in game consoles 6% more than millennials, while they are 25% more likely to read news online, 10% to play on consoles, 14% to play in online casinos, and (mostly) 9% to shop compared to Generation Z.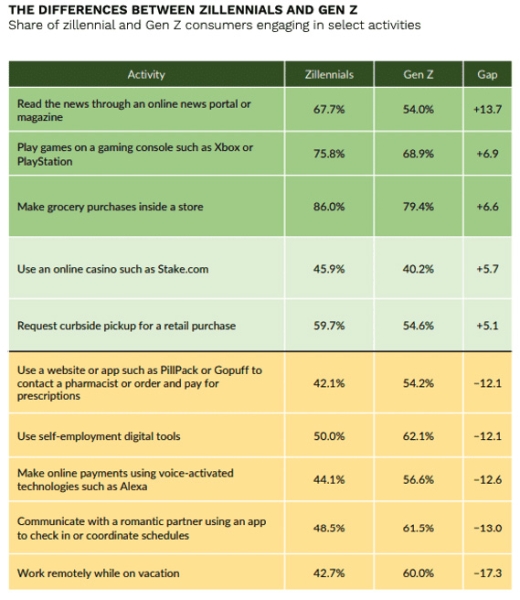 Everyone wants to have zillennial customers
If we take all of the above into account (they grew up with a smartphone in hand, they have money on the side because they still live with their parents, they have the ability to spend), then the zillennial consumers are… a vein of gold for all advertising and retail companies and e -commerce.
And apparently this generation has a weakness for luxury products. According to Morgan Stanley, young consumers who live with their parents are behind the "explosion" in sales of luxury goods recorded in recent years.
The reason; They don't spend as much money on bills and daily expenses (e.g. for the supermarket). Analysts see this trend as extremely positive for retail.
U.S. luxury retail is expected to grow 21% in 2023, largely thanks to young consumers who start buying such products three to five years out. earlier than previous generations, according to a recent study by Bain & Company.
In fact, millennials and zoomers are expected to make up 70% of luxury shoppers worldwide by 2025, up from just 44% of that market in 2019, according to Quartz.
Retail companies apparently they have not been left out. Nike's CEO said this month that the company is focused on attracting new consumers who "want the most innovative products and want brands that are known globally".
JD Sports, which owns well-known American sporting goods department stores, reported that sales over the Christmas holidays were up 20% thanks to young consumers. In particular, the Finish Line chain sold 2 million pairs of Nike Air Force 1 during the holidays, which in the US cost 110 dollars (102 euros).
"I think that the purchasing power of our consumers is much greater than before . They don't have bills, rent and loans to pay," the CEO of JD Sports told Reuters.
With information from Business Insider, PYMNTS